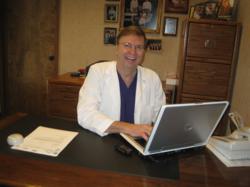 Houma, LA (PRWEB) August 21, 2012
Murray L. Rabalais, P.D., D.D.S., has become one of a very small percentage of periodontists that are trained on and certified to use the Laser Assisted New Attachment Procedure for periodontal disease treatment. This new laser procedure is the only one that is cleared by the FDA for the treatment of periodontal disease. Millions of American adults suffer from bleeding gums, receding gums and mouth infection as a result of gum disease. Some have advanced so far that a gum graft is necessary to save the teeth.
The LANAP procedure is revolutionary because the PerioLase MVP-7 laser is extremely selective and only attacks the bacteria and diseased gum tissue. Healthy gum tissue is not removed and is stimulated to attach to the teeth. This can help save teeth that otherwise may have been lost, and can help prevent the need for a gum graft procedure.
In addition to dental issues related to gum disease, it has been linked to other serious health problems. Dr. Rabalais wants patients to seek treatment before teeth are lost. The new LANAP procedure doesn't require scalpels or sutures and is only minimally invasive. In addition, most patients report very little discomfort associated with the procedure, so he is hoping more people will be willing to seek treatment.
Patients who are experiencing any of the symptoms of gum disease, such as pain, bleeding gums or receding gums, should contact their dental professional to get the necessary treatment. The sooner treatment is started, the more options patients will have. Each case is evaluated individually so that the patient's actual needs can be met. To learn more about the actual LANAP procedure, visit louisiana-periodontist.com.
Progressive Periodontics is a periodontal practice offering patients personalized dental care for Houma and New Iberia, Louisiana since 1980. Dr. Murray L. Rabalais graduated from Northeast Louisiana State College with a Bachelor of Science degree in Pharmacy. He received his Doctor of Dental Surgery degree from Loyola University in 1970. After serving in the United States Army he entered the LSU School of Dentistry for post-graduate studies in Periodontics and received his Certificate in Periodontics in 1980. Dr. Rabalais is part of one percent of dental professionals providing the most recent FDA cleared laser procedure for gum disease and periodontal treatment. To learn more about Progressive Periodontics and their dental services visit their website at http://www.louisiana-periodontist.com or call either office:
Houma: 985-231-5333
New Iberia: 337-376-0767