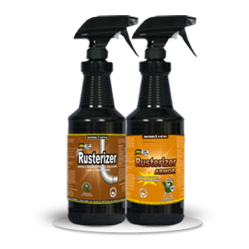 However, more than just effective and safe, Rusterizer also promises an inexpensive rust treatment.
Portland, OR (PRWEB) August 23, 2012
Rusting specifically happens in iron metal. However, the damages it causes are not limited to pieces made from the material specified. And the worse thing is, most of the solutions available to treat rust actually cause health troubles. So to provide the public a rust removal product that can deliver a safer rust treatment, Rusterizer formulated a solution with the use of natural ingredients.
Giving it the same Rusterizer name , the company highly recommends the product to all homeowners and rust contractors. It says that the use of it offers a rust treatment that no other solution can provide. That's because apart from being effective, it can deliver a rust removal process that is also safe and inexpensive.
Thanks to the intensive research that its creator conducted, Rusterizer was made effective. And that was proven true by its first users.
But as it has been said, the solution also offers a safe rust treatment. Particularly, it is safe for human health and the environment given that is organic-based. The absence of strong and harsh chemicals in the formulation of the product basically saves the user and other people that could be exposed to it from possible headache, dizziness, coughing and breathing difficulties. Additionally, it also saves the planet from more pollutants released.
See for Yourself if Rusterizer Works. Grab Your Own Rusterizer Today
However, more than just effective and safe, Rusterizer also promises an inexpensive rust treatment. With it, there is no need for any rust sufferer to spend thousands just get rid of rust flakes and stains.
Those three major Rusterizer benefits actually convert to savings for any homeowner. Because the product is effective, there is no need to repeat the removal process multiple times hence, a smaller amount of the solution is needed. The fact that it's safe also keeps the user way from unnecessary medical bills. And as it is inexpensive, the extra amount can be used to more important spending. S
Meanwhile, for rust removal contractors, those benefits equate to big profit. The effectiveness of the product cuts down the labor cost as it can replace a number of employees. Being safe, it gives a rust removal service an edge which can attract more clients. And because it is affordable, a contractor can get return of investment quick.
For all those advantages it got and all the benefits that it can give, Rusterizer believes that its rust spray is the best for any homeowner and rust contractor to purchase. And to prove that it can surely deliver its claims, it is offering a free sample of it. As if that's not enough, for those who want to purchase the product, the company is also offering it with free shipping.