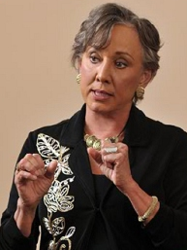 Juana is one of the most inspiring leaders we have today—and she's been a mentor to me personally for years. She has done an excellent job in describing ethnic leadership.
Salt Lake City, Ut (PRWEB) August 19, 2012
Juana Bordas will offer a keynote address and book signing at Salt Lake Community College on August 29, 2012. Her presentation is free and open to the public, and will take place from 9:30 – 10:30 a.m. at the College's Taylorsville Redwood Campus in the Student Center's Oak Room. Salt Lake Community College is Utah's most diverse higher education institution.
"Juana is one of the most inspiring leaders we have today," said SLCC Multicultural Initiatives coordinator Ana Archuleta. "She has done an excellent job in describing ethnic leadership and explains the importance of integrating these talents into organizations and using the 'We' perspective in public policy."
In addition to her address, Bordas will be signing copies of her book 'Salsa, Soul, and Spirit'. The book discusses how incorporating Latino, African-American, and American Indian approaches has the potential to strengthen leadership practice and inspire today's ethnically rich workforce.
Bordas is the president of Mestiza Leadership International in Denver and vice president of the board of the Greenleaf Center for Servant Leadership. She is a founder of Mi Casa Women's Center and served as executive director. Today, Mi Casa is recognized as a national model for women's empowerment. She is founding president/CEO of the National Hispana Leadership Institute, the only program in America that prepares Latinas for national leadership.
Founded in 1995, Mestiza Leadership International provides training and organizational services that demonstrate the benefits of collaboration, diversity, and effective leadership. Mestiza has established a track record for delivering quality programs in creative and interactive environments.
About the College:
Salt Lake Community College is an accredited, student-focused, urban college meeting the diverse needs of the Salt Lake community. Educating and training more than 62,000 people each year, the College is the largest institution of higher education in Utah. The College has 13 sites, an eCampus, and nearly 1,000 continuing education sites located throughout the Salt Lake valley. Courses are offered during both traditional and accelerated semesters, during the daytime, evenings, and weekends. Personal attention from an excellent faculty is paramount at the College, which maintains a student-to-teacher ratio of less than 20 to 1.
# # #