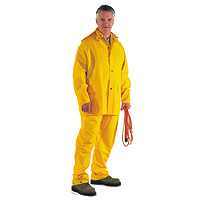 Destin, FL (PRWEB) August 19, 2012
Residents of Northwest Florida have experienced record levels of rain this summer. According to the National Weather Service, Pensacola has received 50 inches of rain so far this year, more than 9 inches above normal (nwfdailynews.com). While the rain is a welcome relief from past drought conditions for local farmers, it has caused nothing but worry for nervous property owners in low lying areas. Michael Fisher, Manager of Disaster Relief Supply in Destin, FL which sells emergency preparedness products, has been awaiting the worst, and helping local residents prepare for it.
"Our store has seen more and more customers looking for flood prevention and restoration products," Fisher says, "Most of Destin is prone to flooding, and every day you see the irrigation ditches filling up more and more; you can't help but wonder when that big storm is going to come and cause some real damage."
With the summer storms showing no signs of relenting, Fisher is encouraging locals to stock up on sand bags, water/weather-proof gear, water purification and storage products, emergency foods, and even life rafts. "You can never be too careful," claims Fisher, "people need to know that flood damage is much more than soggy carpet and ruined landscaping."
One of the effects of flooding that Fisher alludes to is the fact that flooding can severely affect water quality by flushing large amounts of toxic runoff into drinking water sources, as well as by damaging water and wastewater (nrdc.org). This is why products like water filters, clean water storage, and sealed emergency food and water packets are considered essential during a flooding emergency by many government agencies (nrdc.org). Flooding also threatens important documents, photos, and expensive electronics among other things. Knowing this, many stores offer water-proof storage and safes.
An additional concern with flooding is the restoration of affected homes and businesses. The damage from flooding is not always visible. Mold and mildew can grow under the surface of floors and carpet, and has potential to severely harm all occupants that come in contact with the infected surface or air. Specially formulated cleaners like Moldex and Clorox Bleach, and post-flood water removal products like carpet water extractors, dehumidifiers, fans, and submersible or trash pumps, can prevent and/or lessen the damage of flood waters.
Fisher fears that no matter how bad it gets, many Floridians still won't prepare. Fisher jokes that "People would rather wait until their house is destroyed than spend $10 on sand bags. But we'll at least know that we did our best to educate customers and offer any help we can, whether through our products, rentals, or combined knowledge." Currently the weather radar shows scattered thunder storms throughout the rest of the week (weather.com), which leaves many home and business owners wondering; when will it end?