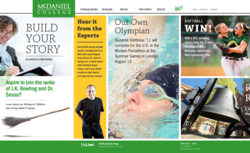 We feel that MC2 is what really sets this website apart from other college sites.
Westminster, Md. (PRWEB) August 20, 2012
McDaniel College has unveiled a new redesigned interactive website (http://www.mcdaniel.edu) to be primarily used by external audiences, including prospective students and alumni.
The culmination of a 10-month process, McDaniel's website team was led by Vince Buscemi, director of digital communications and social media, Florence Hines, vice president of enrollment and dean of admissions, and Joyce Muller, associate vice president of communications and marketing. Dr. Roger N. Casey, president of McDaniel College, spearheaded the site redesign.
He said, "In this digital age, it is imperative that we at McDaniel are embracing the ever changing role of technology. With access to all sorts of digital devices, it should be no surprise that prospective students and others first look for information about McDaniel on the college's website. It is essential for McDaniel to have strong web presence that tells our story in an engaging way in order to attract the best and brightest students."
The new McDaniel website has been built with mobile devices, such as smartphones and tablets, in mind. The homepage was designed specifically for viewing on these devices, although the site is still fully functional via a desktop or laptop computer. Each page on the site contains concisely written content with links for additional information.
"Our goal was not to create a separate mobile website for the college, but to build a website that puts the mobile user first," said Buscemi. "We fully understand that the wave of the future is toward mobile devices, and we wanted to embrace this technology while also ensuring that the site was both visually appealing and incorporated user-friendly navigation. With technology constantly changing and evolving, it was also important that this new site would allow us to continue to make updates and add additional elements as time goes on. Even with this new website now live, we are already beginning to plan for the future."
One key component of the new website is MC2, which is an expanded social media dashboard. Modeled off of the design of the homepage, it displays multiple college social media streams (Flickr, Twitter, Facebook and YouTube) and blogs written by faculty and students in real-time. The page will continue to be built upon with additional elements to be added (examples might include Foursquare, SCVNGR, Pinterest and Instagram).
Two current McDaniel computer science majors, senior Matt Brooks of Manchester, Md., and junior Zach Littrell of Taneytown, Md., helped enhance the functionality and populate content on the new website, and developed MC2, which they dubbed "an underground version of the homepage."
Littrell said, "You really get a sense of what is happening at McDaniel through MC2."
Brooks added, "I personally didn't know that some of these sites even existed until we started building out the page. I never would have known about the blog and the research being done through the biology department, for instance, and now it is highlighted on MC2 for everyone to see."
Florence Hines remarked, "We feel that MC2 is what really sets this website apart from other college sites. By repurposing content that already exists on various channels where we are regularly posting, we are able to extend the conversations that are happening at the college right now. It truly gives you a sense of the campus as a whole."
This was the first redesign of the McDaniel College website since 2005.
The new site was designed by Skelton Design and developed by Interactive Technologies, both based in Baltimore. It incorporates ExpressionEngine as the content management system and the Google Custom search engine.
The new McDaniel website has launched prior to the start of the 2012–2013 academic year. Freshmen begin arriving on campus on Wednesday, August 22, with classes set to begin on Monday, August 27.
An updated McDaniel Athletics website, which is directly linked from the new site, and web portal for current students, faculty and staff have also been built in conjunction with this new external website.
Link to the new McDaniel website: http://www.mcdaniel.edu
# # #
McDaniel College, recognized nationally among "40 Colleges that Change Lives" and U.S. News top-tier liberal arts colleges, is a four-year private college of the liberal arts and sciences offering more than 70 undergraduate programs of study, including dual and student-designed majors, plus 20 highly regarded graduate programs. Its hallmark faculty-student collaborations in research, teaching and mentoring plus hundreds of leadership and service opportunities enrich a lively learning experience that is rooted in a personalized interdisciplinary and global curriculum. Innovative January courses take students to points all over the world while McDaniel's degree-granting European campus offers a unique opportunity for international study at the only American university in Budapest, Hungary. A diverse and close-knit community of 1,600 undergraduates and 1,560 part-time graduate students, McDaniel also boasts a spectacular 160-acre hilltop campus in Westminster, Md., an hour or less from Baltimore, D.C., the Chesapeake Bay, an Amtrak station and BWI international airport.