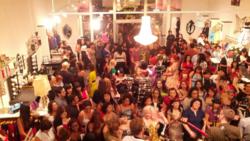 Burbank, California (PRWEB) August 20, 2012
Pinup Girl Boutique is now open in Burbank CA. – Associated with Pinup Girl Clothing.com, the Boutique is the brain child of Laura Byrnes, John Flores and Micheline Pitt. We have waited several years to find the right location and time to open a retail location. This boutique embodies the heart and soul of what Pinup Girl is about.
The Boutique features made in the USA brands of Pinup Couture and Deadly Dames. These lines feature fantastic dresses, skirts and swimwear that are body conscious and are designed to give women confidence. The boutique will also carry our Pinup Couture shoes and accessories. We really wanted to showcase the quality of the garments in an upscale approachable atmosphere.
The Boutique also houses The Beauty Boutique by Micheline Pitt. The Beauty Boutique will run classes monthly to enlighten fellow fashionistas on makeup techniques as well as hair styles. Look for guest teachers and specialty classes as well. Micheline will also be available by appointment to do makeup and hair styling.
Pinup Girl Boutique
3606 W. Magnolia Blvd
Burbank CA 91505