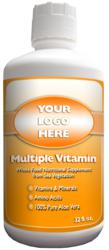 "Customers were coming to us, asking for a natural alternative that would deal with their acne from the inside out"
Murrieta, CA (PRWEB) August 24, 2012
Liquid Health, Inc. is adding a new product to its stock line of nearly 30 products for its private label program. This new product contains a large dose of vitamin B5 to help people who are dealing with persistent acne.
Acne can affect people of all ages, no matter their gender or race. Because of that, Liquid Health Inc. announces the addition of a concentrated vitamin B5 supplement to its stock line of products available for private labeling. A high dose of vitamin B5 has been shown to help reduce acne.
Acne is caused by excessive oil clogging up a person's pores. Taking a high dose of vitamin B5 can help to reduce the production of oil, essentially stopping acne before it has a chance to start. A study performed by Dr. Lit-Hung Leung in 1995 showed that participants taking Vitamin B5 saw a reduction in acne as quickly as one week to one month after starting to take the vitamin.
"People can suffer from acne well into their 20's and even 30's. Customers were coming to us, asking for a natural alternative that would deal with their acne from the inside out, and that's what we came up with," according to Patrick Sattley, Private Label Manager for Liquid Health Inc.
Liquid Health's new liquid acne formula also contains zinc which has been shown to "help clear up acne" according to MedlinePlus (a service of the U.S. National Library of Medicine.)
In addition to Vitamin B5 and Zinc, this product contains:
Vitamin C 60 mg
Vitamin B1 3 mg
Riboflavin 3.4 mg
Niacin 10 mg
Vitamin B6 5 mg
Folate 400 mcg
Vitamin B12 40 mcg
Biotin 1000 mcg
Vitamin B5 or Pantothenic Acid 3400 mg
Zinc 3 mg
Selenium 14 mcg
Chromium 20 mcg
Molybdenum 35 mcg
This acne product also includes a proprietary blend of Aloe Vera Juice, L-Carnitine, Bromelain, Alpha Lipoic Acid, and Stevia.
Liquid Health Inc. has been offering private labeling and custom formulation since the late 90's and has continued to add products to its stock line over the years. Liquid Health Inc. and all its facilities are cGMP (certified Good Manufacturing Practices) certified. All Liquid Health products are manufactured in Murrieta, California.