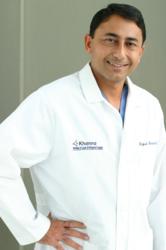 Los Angeles, CA (PRWEB) August 18, 2012
For years, patients across the state of California as well as international colleagues have urged Dr. Rajesh Khanna to write a book disclosing all things vision. It comes with great pleasure to announce that Dr. Khanna will be releasing a book titled; Prelex. Dr. Khanna, founder of the Khanna Vision Institute is an ophthalmologist, corneal specialist, and lasik surgeon. As one of the pioneers of Prelex eye surgery, Dr. Khanna knows the benefits that can come from vision correction surgery, and he has seen phenomenal results over his 22 years of practice. Khanna treats a variety of patients and aims to cater to each unique vision aliment. Although he specializes in Laser vision correction, and offers a variety of procedures for people that are not candidates for lasik, including cataract surgery, keratoconus, pterygium removal, and additional vision correction surgeries, as well as annual eye exams.
Most everyone has heard of Lasik surgery, in fact most people have had friends or family members that have undergone this surgery and achieved successful results. However, most have not heard of Prelex. Prelex is a new age procedure that involves replacing the natural lens with an artificial, presbyopic lens. Experts have compared this procedure to modern day cataract surgery. The prelex procedure was first practiced in India centuries ago, has since been revamped, and is currently one of the fastest growing vision procedures in the United States.
The advantages of the prelex procedure prove quite outstanding. The procedure allows individuals to see near, middle and distance without the use of glasses or contacts. This procedure also prevents the development of cataracts as cataracts are unable to develop in an artificial lens. Therefore the prelex procedure will not only provide quality vision, but it will prevent one from having to undergo cataract surgery later in life.
As you can see this procedure is advanced and effective. Dr. Khanna's new book Prelex, will explain the procedure in depth and help patients learn if they are candidates. In addition to information regarding Prelex, the book will give advice about vision, offering helpful tips, and voice of reason within the ophthalmology community. Dr. Khanna is extremely passionate about providing enhanced vision and aims to help all of his patients achieve their best possible vision.
Khanna can be reached by phone at 1-877-2-KHANNA or via email with the convenient form on the website. For more information, visit the website at http://www.khannainstitute.com.
ABOUT RAJESH KHANNA:
Dr. Rajesh Khanna is an internationally recognized LASIK and refractive vision care specialist. He graduated among the top of his class in medical school and is a member of the UCLA faculty. Utilizing his skills to instruct a new generation of eye surgeons on the safest and most effective techniques and procedures, he pioneered many of today's techniques in LASIK and refractive surgery. Khanna invented a variety of instruments to aid in surgeries and speaks at a myriad of national and international professional venues each year. He participates in refractive surgery conferences and wet labs worldwide. Featured extensively in print and broadcast media, he's received prestigious awards and honors from the World Health Organization. He's a member of the American Medical Association, the prestigious American Academy of Ophthalmology and the American Society of Cataract and Refractive Surgery, and certified by the American Board of Ophthalmology.