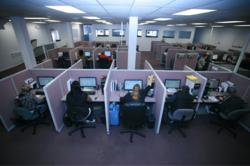 Sound Telecom is helping our business grow by generating a constant stream of viable sales prospects for our team
Seattle, Washington (PRWEB) August 23, 2012
SMAATO, an international company based in San Francisco, provides advertising for mobile applications. They developed a unique mobile advertising optimization platform known as SOMA which stands for "SMAATO open mobile advertising." SOMA's claim to fame is its ability to aggregate over 80 leading advertising networks on a global basis to help its customers maximize revenues. "We are thriving in a fast-moving marketplace," says John Schatzman Director of Marketing Americas for SMAATO. "We enlisted the help of Sound Telecom because we need to quickly reach mobile application developers and get them on our program."
Sound Telecom carefully researches the mobile app development market to find likely prospects for SMAATO. Once a prospect is located, it is quickly converted into a sales lead and sent to SMAATO's in-house sales team for further development. "The process has been a huge success for us," John continues. "Sound Telecom is helping our business grow by generating a constant stream of viable sales prospects for our team." SMAATO has done an excellent job acquiring these new customers and has grown by 200% in 2012 to become a global leader in mobile advertising.
Jim Rader, Sound Telecom's operations manager, add, "SMAATO presented us with a unique project. Their proprietary lead development model is cutting edge, and SMAATO wanted big numbers in a big hurry. Our team jumped into action and produced leads on Day 1 and continues to do so."
SMAATO turned to Sound Telecom's outsourced model because they simply do not have the bandwidth to handle this type of proprietary lead procurement in-house. As fast as SMAATO is growing, they are focusing all of their attention on sales and customer support. Sound Telecom was a natural choice having 26 years of proven experience in lead generation.
Ragnar Kruse, CEO and founder of SMAATO, has developed the company into a mobile advertising leader. SMAATO now serves over 50,000 customers worldwide. Sound Telecom is a perfect complement to SMAATO because it also serves a global customer base and has strong growth in the USA.
About Sound Telecom
Sound Telecom is a leading provider of 24 hour Telephone Answering, Call Center and Unified Communication Services, headquartered in Seattle professionally serving thousands of customers throughout the United States and Canada with USA based agents. The twenty-six year old company has offices in Seattle and Spokane, Washington and Denver, Colorado. For more information, please visit http://www.sound-tele.com.
About SMAATO
SMATTO provides Ads for Apps – operating the leading mobile advertising optimization platform called SOMA. More than 50,000 app developers and premium publishers have signed up with SMAATO to monetize their content in 230+ countries with advanced real-time optimization features (RTB) and rich media ad formats. SOMA's unique feature is the aggregation of 80+ leading ad networks globally to maximize mobile advertising revenues. Through an open API and the widest range of SDKs, SOMA can be easily integrated with ad networks, ad inventory owners (publishers, developers and operators) and 3rd party ad technology providers. For more information, visit http://www.smaato.com.
Contact Information
Sound Telecom
Michael L. LaBaw, President
800-577-1550
SMAATO
John Schatzman, Director of Marketing Americas
M +1 (415) 238.6827
T +1 (650) 286.1198
F +1 (650) 240.0708
Skype: john.schatzman