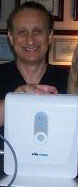 It is amazing that gastric acid reflux can be visualized using a Velscope. I am happy to provide oral cancer screenings at no charge to my patients in my Middletown, New Jersey office.
(PRWEB) August 21, 2012
During thousands of dental exams performed by general dentist Dr. Robert Korwin of Middletown/RedBank, NJ, he has discovered that there is a previously unreported link between patients with gastric acid reflux, and the appearance of the tongue when viewed with the Velscope oral cancer screening device.
Reflux of acid from the stomach to the esophagus changes the acidity of the oral environment, with the most distinct changes occurring in the back of the mouth, and lessening in intensity toward the front due to buffering by saliva. In patients with reflux, different types of bacteria (which thrive in an acid environment) then grow on the back of the tongue than on the front.
When viewed with the Velscope device, bacteria which grow in more acid conditions fluoresce with an orange glow. This effect was discovered by Monmouth County New Jersey dentist Dr. Korwin, and is entirely absent in patients who self-report no reflux, and can be very prominent in those patients who self-report having acid reflux. The extent of the effect is markedly reduced in patients who take antacids or GERD medications.
The Velscope is designed to differentiate healthy tissue which glows green, from unhealthy tissue which appears dark under the Velscope filter. Unhealthy oral tissue can be caused by viral, fungal and bacterial infections, inflammation from lichen planus, squamous papillomas and salivary gland tumors. These conditions are routinely reviewed during oral cancer screening exams by dentists.
Dr. Korwin has also said that the Velscope device reflects bright white light from tonsiloliths, or tonsillar stones, which can be uncomfortable and can contribute to bad breath.
This new discovery will be useful as a screening tool for dental patients, since dentists can quickly refer patients for proper care to their physicians when an orange tongue fluorescence is seen during the two minute chair side examination, which Dr. Korwin performs as part of the dental exam.
Without treatment, gastric acid reflux (GERD or LPR) can become erosive and cause heartburn, chest pain, tooth erosion, and can lead to Barrett's esophageal metaplasia and esophageal cancer. Rapid screening can help patients discover the disease and avoid its debilitating effects.
Although further research is necessary to conclusively reveal the foundations underlying fluorescence and reflux, this technology is available now at no charge to all patients of record of Dr. Korwin at his office in Middletown/ Red Bank New Jersey.
About Dr. Robert Korwin
Robert Korwin DMD, MICOI, MAGD is a renowned general dentist with over 30 years of experience, teaching innovating, and practicing in Middletown NJ and Red Bank, NJ. Dr. Korwin has practiced Implantology, Orthodontics, Periodontal Surgery Dental Esthetics, Sedation, Prosthodontics, and many other dental areas for over three decades. He also received three patents in dentistry, and has helped manufacture dental products and launch dental software and training companies.
With extensive academic, clinical and didactic training, he is one of only a handful of dentists worldwide who have dual Mastership awards from The Academy of General Dentistry and The International College of Oral Implantologists. Dr. Korwin is a highest honors graduate of Progressive Orthodontic Seminars, awarded to only 2 of 4,000 students in 24 years Dr. Korwin promotes excellence in preventing orally linked disease and provides highly cosmetic dental repair and reconstruction utilizing orthodontics, implants, surgery, prosthetics and sedation, with laser, digital and computer assisted diagnostics. The practice provides a one stop dental experience and coordinates with patients to maximize their dental health, ensure their comfort and minimize financial concerns.
For more information, please visit http://www.drkorwin.com or call (732) 219-8900.
Media Contact
Robert Korwin DMD
732-219-8900
http://www.drkorwin.com
###