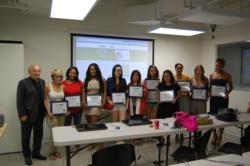 We teach our students AIMS, so they can learn how to run a successful business.
Los Angeles, CA (PRWEB) August 20, 2012
The fashion industries leading apparel ERP Software Company hosted an evening reception at the AIMS headquarters Training Center in Downtown Los Angeles, on Wednesday, August 15. Amongst the guests were 13 top performing students from Los Angeles Trade Technical College (LATTC) that received an "A" grade in FM040 - Fashion Merchandising Math Class. The distinguished students and their families were entertained with foods, drinks and wonderful industry insight from their instructor, Henry Cherner (Managing Partner and Senior Adjunct Instructor at LATTC). Following the reception, Henry personally greeted and awarded each student their AIMS Certification Certificate.
Congratulations to the top students from LATTC and newest AIMS Certification Members:
Georgina Bush
Caren Chong
Yan Che Fan
Lissette Fernandez
Courtney Gainer
Aja Gibbs
Joy Kim
Ivy Lopez
Alyssa Malone
Mary Morales
Krizia Rubio
Mary Angelyn Valera
Simone Wyrick
AIMS was first introduced to students at LA Trade Tech College in 1997. Knowing the ins and outs of the fashion industry and what fashion students were being taught at various trade schools and colleges, Henry Cherner saw that there was a gap that still needed to be filled between designing, merchandising, etc. and business concepts. Henry and his founding partner of AIMS, Scott Chaban, had built a successful automated tool for inventory management, order taking, shipping, accounting, EDI , etc. and saw that there was a strong tie between classroom education, technology and an evolving clothing manufacturing business world and that students within this industry needed more than just a fashion sense to be successful. So, Henry was brought in from industry to create a curriculum for Fashion Merchandising Math/Costing program and instituted it into various fashion programs. As time went on and the AIMS software itself started to evolve, and there was a need of more people to better understand how manage and apparel ERP Software, so Henry created an AIMS Certification program. The program itself teaches how to use an inventory management software (on the AIMS platform) and how to automate the many facets of the apparel industry using the system.
AIMS 360 is dedicated to educating and training of future stars in the apparel industry. AIMS is currently being taught at colleges and trade schools such as Los Angeles Trade Technical College, Art Institute of CA San Diego, Cal Poly Pomona AMM, UCLA Extension, Saddleback College Irvine, CA and in the Fall of 2012 it will be taught at FIDM (Fashion Institute of Design & Merchandising).
ABOUT AIMS 360
AIMS 360 offers a fully integrated apparel inventory software solution for importers, distributors and manufactures of apparel, footwear, handbags, accessories, jewelry, home furnishings and other fashion goods. With over 25 years of experience, AIMS ties cutting-edge technology with all facets of your business. AIMS 360' product suite is comprehensive, feature-rich, user-friendly, easy to implement and is compatible on a laptop, PC, Mac and iPad. Solutions are available for on-site applications and in the cloud.
A Gold Level Microsoft ISV Partner and Gold Level QuickBooks developer, AIMS 360 provides the most professional, up-to-date program possible, including AIMS GL Integration™ with QuickBooks, AIMS EasyShop™ online e-commerce retail shopping cart, AIMS WebLink™ online wholesale shopping cart, UPS , FedEx and USPS shipping integration, AIMS RemoteLink™ for iPad™ and Windows for order taking on the go, Business Analytics for iPad and the easiest-to-use EDI Integration.
AIMS 360 delivers all of this at affordable prices. From materials to finished goods, our application is easy-to-use, customizable and low-cost. No matter if you are a new business or are an existing small, medium or large organization, AIMS 360 is your ERP solution and is here to help you grow!
Find out why so many apparel businesses rely on AIMS360 since 1984!
Call (310) 361-5710 or (646) 873-7675 | info(at)aims360(dot)com | http://www.aims360.com