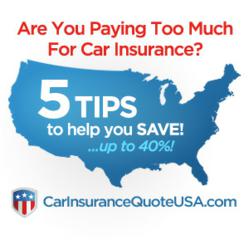 Jacksonville, Florida (PRWEB) August 18, 2012
Would you like to save big on car insurance this year? Cheaper insurance rates are possible if you take the time to educate yourself on the do's and dont's when looking into a new provider.
Recent studies show that many consumers don't take the time to shop around or just take on the same insurance company as their parents and stay on the same policy for years. Failure to compare insurance quotes and know what's available could be costing you hundreds per year. So when it's time to finally look into what other insurance companies have to offer it's important to keep these 5 tips in mind:
1. Get a head start. If you don't already own a car, make sure that the vehicle you're interested in purchasing is "insurance friendly". Insurance friendly cars such as family sedans are cheaper to insure than high performance sports cars or luxury vehicles not just for the obvious reasons but also because they are generally cheaper to repair.
Also be sure to get the facts and avoid cars that are often stolen in your area, more info can be found at the National Insurance Crime Bureau website (http://www.nicb.org)
2. Take on higher deductibles. In the event of an insurance claim, the dollar value that you take on before your insurance company pays up is known as the deductible. If your deductible is increased your insurance costs are lowered. Life is unpredictable, but if you're confident that you're a safe driver and maybe you're not on the road too often the risk of a higher deductible can save you up to 40% on your coverage.
3. Low-mileage discounts. Another benefit of not being on the road so much. Many insurance companies will offer low mileage discounts to drivers who are on the road less than a predetermined number of miles per year because simply put, the less you drive, the less chance of an accident.
4. Remove unnecessary coverage. Towing and car rental coverage can add more than $70 per year to you plan. If you already have roadside assistance (which you should!), keep safe and maintain your car properly the need for towing coverage may not be necessary.
As for rentals, if you pay with your credit card, certain credit cards will provide you a degree of coverage already. If you don't plan on renting a car anytime within the next year removing this coverage might save you up to $40 per year.
5. Other safety discounts. If you have defensive drivers training, a clean driving record, no accidents in 3 years or even have safety devices on your vehicle such as immobilizers or other anti-theft devices, these can all contribute to cheaper car insurance rates.
BONUS TIP: Telemantics. If you don't mind your insurance company acting like big brother when it comes to your driving habits there are some insurance companies that will offer a discount in exchange for a 'black box' installed on your vehicle. What this device will do is act a s a GPS to track you safe driving habits.
Keeping all these tips in mind when doing your comparison shopping for car insurance will save you hundreds per year. Our newly launched site; CarInsuranceQuoteUSA.com will help connect you to the top insurance companies in your area. The service is absolutely free and there is no obligation to sign up in order to receive a quote from our providers.