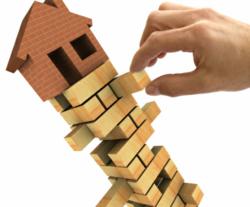 "The media will tell you how the housing market is ramping up. That's true as far as housing starts and building permits go," Leong concedes, "…but the reality is home prices continue to be dogged by high home foreclosures and short sales."
New York, NY (PRWEB) August 21, 2012
In a recent Investment Contrarians article, editor George Leong notes that the current average list price of a house in Detroit is a mere $21,000, pointing to the housing market being dirt cheap in much of America. According to Leong, foreclosures and short sales will continue to cast a cloud over the housing market, despite the media's optimism.
"The media will tell you how the housing market is ramping up. That's true as far as housing starts and building permits go," Leong concedes, "…but the reality is home prices continue to be dogged by high home foreclosures and short sales."
Housing starts have been trending higher, meaning builders will see higher demand down the road, reasons Leong. Yet there was some fragility in the building permits number that came in at 755,000 in June, below the revised 784,000 estimate in May, he reports.
Leong's concern is that the shortfall in building permits could suggest a pending decline in future construction, indicating some slowing is coming in the housing market.
The S&P Case-Shiller 20-city Home Price Index contracted another 0.7% in May, following 1.9% and 2.6% declines in April and March, observes Leong. The positive note is that the decline in home prices is getting smaller, and this will need to continue in order to boost consumer spending in the retail sector, notes the Investment Contrarians editor.
Leong concludes by warning investors that while the housing market is improving, they shouldn't get too excited and start buying up homebuilder stocks; instead, he suggests taking some money off the table.
To see the full article and to get a real contrarian perspective on investing and the economy, visit Investment Contrarians at http://www.investmentcontrarians.com.
Investment Contrarians is a daily financial e-letter dedicated to helping investors make money by going against the "herd mentality."
The editors of Investment Contrarians believe the stock market and the economy have been propped up since 2009 by artificially low interest rates, never-ending government borrowing and an unprecedented expansion of our money supply. The "official" unemployment numbers do not reflect people who have given up looking for work and are thus skewed. They believe the "official" inflation numbers are also not reflective of today's reality of rising prices.
After a 25- to 30-year down cycle in interest rates, the Investment Contrarians editors expect rapid inflation caused by huge government debt and money printing will eventually start us on a new cycle of rising interest rates.
Investment Contrarians provides unbiased research. They are independent analysts who love to research and comment on the economy and investing. The e-newsletter's parent company, Lombardi Publishing Corporation, has been in business since 1986. Combined, their economists and analysts have over 100 years of investment experience.
Find out where Investment Contrarians editors see the risks and opportunities for investors in 2012 at http://www.investmentcontrarians.com.
George Leong, B. Comm., one of the lead editorial contributors at Investment Contrarians, has just released, "A Problem 23 Times Bigger Than Greece," a breakthrough video where George details the risk of an economy set to implode that is 23 times bigger than Greece's economy! To see the video, visit http://www.investmentcontrarians.com/press.