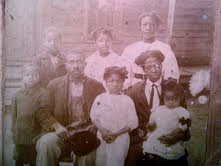 Someone thought it a great idea to make family a priority and some 80 years later we have not skipped a beat.
(PRWEB) August 20, 2012
More than 300 members of the Calvin and Kitty Simmons Family will gather in Trenton, North Carolina (Jones County) to celebrate the 80th family reunion. Events will begin with a Meet and Greet on the evening of Friday, August 24 and culminate with a Sunday Worship Service and Dinner on Sunday, August 26. Most events will take place on the grounds of the Jones County Community Development Corporation (JCCDC) located at 2101 NC Highway 58 South, Trenton, NC 28585.
Reunion attendees will learn tips for achieving and maintaining overall wellness during a Health Expo on Saturday, August 25th from 12-4pm. Open to the public, this will be a FREE community event highlighting information on diet, supplements, nutrition and exercise. There will also be information on prevention of diabetes, cardiovascular diseases, cancer and improving mental health. "With so many illnesses plaguing black families today such as hypertension and diabetes, we encourage all to come out, learn and celebrate with us for better health and life longevity!" said Franchesca Simmons, Health and Wellness Expo Coordinator and Independent Distributor of Skinny Body Care.
"As family historian, I consider one of my tasks to be putting flesh on the bones of our ancestors," said Ramona Simmons Gonzalez, Simmons Family Historian and Genealogist. "We have heard about many of them, but it is my desire to make them live again through their stories, which in itself is OUR story." Through her studies on a genealogy website, Gonzalez discovered the family of Carlgrove "Cargo" Simmons—a long lost Simmons family descendant that had been recorded in the 1880 census report. Members of his family now residing in California and Louisiana are travelling across the country to meet and reconnect with their relatives.
For eight decades, the reunion has been held on the 4th Sunday in August, centered around the fall harvest. In recent years, the reunion has been expanded to encompass more events to attract younger generations. Reunion Coordinator Gretchen Wiggins McMullen expects record attendance this year. "Someone thought it a great idea to make family a priority and some 80 years later we have not skipped a beat," said McMullen, a 5th generation Simmons. "It's not every day that legacies are passed down and upheld with the intent and purpose that it was founded. We pride ourselves in our heritage and we pledge from this day forward to carry out the Simmons Family tradition…every 4th weekend in August."