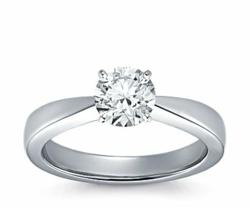 Choose an engagement ring which will look just as good on your diamond wedding anniversary as it does today
London (PRWEB UK) 20 August 2012
With so many diamond engagement rings to choose from it is so easy to get confused. Is it best to buy a classic or be daring and buy something more contemporary? An engagement ring should last a lifetime and nobody wants to make a mistake, so here are some popular designs which are currently in vogue.
Brilliant Cut
Round cut diamonds outsell all other designs put together and remain a timeless classic. Smaller stones upto say 1.25ct look best in a four claw setting, but bigger diamonds deserve a more secure 6 prong setting.
Princess Cut
Square cut diamonds remain popular and due to less wastage during cutting, are a little cheaper than their brilliant cut counterparts. Typically a princess cut diamond is about 10-15% cheaper than the same carat weight brilliant cut ring.
Emerald Cut
Classic and very stylish, due to less facets than either of the above diamonds, higher grade clarity stones are needed to make the most of this beautiful cut. Emerald cut rings, don't come cheap, but their timeless elegance make them a firm favourite amongst the well-heeled.
Vintage & Shoulder set
Vintage diamond engagement rings are very much 'on trend' with many famous jewellers offering a stunning array of designs. A nice solitaire highlighted with a shoulder set ring or halo of diamonds is a great choice.
Something Different
Want to stand out from the crowd? Go for something completely different and choose from the wide variety of contemporary diamond engagement rings currently available. Be careful though, it might look great at twenty or thirty but will it suit at sixty?
Interested readers can download our FREE guide 'Discover 5 Diamond Trade Secrets The Professionals Don't Want You To Know' and save thousands!