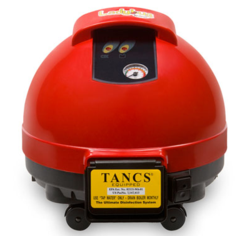 TANCS®-equipped Ladybug steam cleaners are scientifically proven to disinfect better and faster than traditional disinfectants using ordinary tap water.
Lake Forest, Illinois (PRWEB) August 19, 2012
Leading nationwide vapor steam cleaner marketer 1-800-GO-VAPOR.com today announced the availability of the affordable Ladybug 2200S steam cleaner, which offers the TANCS® option.
According to the company, Thermo Accelerated Nano Crystal Sanitation (or TANCS®) technology allows asthma sufferers to effortlessly destroy microorganisms, eliminate biofilms, kill bacteria and disinfect almost any surface far better and quicker than most chemical disinfectants. TANCS®-equipped steam cleaners qualify as disinfection devices for the U.S. Environmental Protection Agency.
"Reports say that air quality has improved and people are smoking less," says V. K. Dunlop of 1-800-GO-VAPOR.com. "So how to explain a study that says the number of people with asthma is rising in the United States?"
The study, released by the U.S. Centers for Disease Control and Prevention, found that in just eight years the number of people diagnosed with asthma in the U.S. grew by almost 5 million, specifically 25 million in 2009 compared to about 20 million in 2001. That means that 1 in 12 Americans live with the inflammatory disorder.
"If you are among the millions of Americans who suffers from asthma, everyday cleaning can trigger your condition," says Dunlop.
According the Centre for Research in Environmental Epidemiology in Barcelona, Spain, cleaning sprays, chlorine bleach and chemical disinfectants may be contributing to the rise in asthma.
"Asthma can't be cured but it can be controlled," says Dunlop. "With growing evidence that exposure to household chemical cleaners can provoke asthma, it is important to know that Ladybug steam cleaners are scientifically proven to disinfect better and faster than traditional disinfectants using ordinary tap water."
While bleach has been trusted for years as the perfect disinfectant, bleach leaves as many live bacteria cells as dead cells. But fortunately for asthma sufferers, scientific testing found that Ladybug steam cleaners equipped with Ladybug's proprietary patented TANCS® technology kill the cells that are unreachable by bleach.
"Scientific studies have found that biofilms can be up to 1000 times more resistant to biocide inactivation than are suspended microbes," explains Chuanwu Xi, Assistant Professor in the Department of Environmental Health at the University of Michigan. "It is extremely difficult to get rid of biofilms and kill them. The efficacy of the steam vapor system is important because even strong chemical disinfectants such as bleach when allowed 20 minutes of dwell time did not achieve the same degree of kill that the TANCS®-equipped unit accomplished in three seconds."
Located in Lake Forest, Illinois, 1-800-GO-VAPOR.com is moving fast to educate consumers and businesses that finally, there's a feasible, environmentally friendly alternative to chemicals. With customers in every state in the nation and seven foreign countries, the company maintains an A+ rating with the Better Business Bureau and markets Ladybug, Reliable and Vapamore steam cleaners worldwide. For more information, call 1-800-468-2767. 1-800-GO-VAPOR.com is a proud member of the Safer Chemicals, Healthy Families coalition, a nationwide effort to protect families from toxic chemicals. To stay safe and avoid toxic chemicals, keep abreast of the latest news with 1-800-GO-VAPOR.com's Twitter account, @1800GOVAPOR.