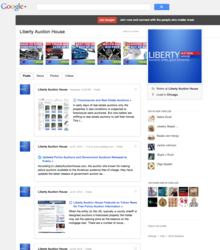 Now people can share their police auction finds with ease
Chicago, Illinois (PRWEB) August 18, 2012
LibertyAuctionHouse.com stated today that Police Auctions and Government Auctions are showing signs of viral activity after social tools have been integrated into the free police auction database.
Government property sold at public auction may include surplus government equipment, abandoned property over which the government has asserted ownership, property which has passed to the government by escheat, government land, and intangible assets over which the government asserts authority, such as broadcast frequencies sold through a spectrum auction.
"Now people can share their police auction finds with ease" said Michael Strom (CEO) of LibertyAuctionHouse.com. "Since our team made this integration, Liberty Auction House has seen amazing results. Over 35,000 Facebook likes, 50,000 twitter followers, and over 100,000 youtube views for our humorous commercials".
A public auction is an auction held on behalf of a government in which the property to be auctioned is either property owned by the government, or property which is sold under the authority of a court of law or a government agency with similar authority.
Reports show that Facebook could be working on a "Want" feature, according to ABC news. If the reports of this "Want" button prove to be true, LibertyAuctionHouse.com will be looking to quickly integrate it on to the site. "Why stop at a want and like button, I think if our members could, they would click an obsessed button" Stated a free member of the police auction website.