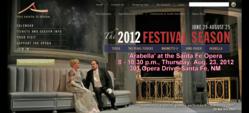 Santa Fe, New Mexico (PRWEB) August 18, 2012
Parents caught in a bad economy resort to deception to maintain respectability. Will their ruse spoil their daughters' chances of happiness in love? The answer comes down to a single glass of water in Arabella, a sumptuous romantic comedy with an element of social commentary, as Richard Strauss returns to the Crosby Theatre after an absence of five years. Arabella charms with Strauss' deft characterizations and soaring vocal lines — especially soprano voices. Erin Wall, who sang the four heroines in the 2010 Tales of Hoffmann and Daphne in 2007, sings the title role, with Heidi Stober as her sister Zdenka. Sir Andrew Davis conducts. The presentation of 'Arabella' by the Santa Fe Opera is set for 8 to 10:30 p.m., Thursday, August 23, 2012. This opera and the entire Santa Fe Opera 2012 line-up are featured on the SantaFe.com event calendar.
Synopsis
Composed by Richard Strauss
Sung in German with English and Spanish Opera Titles
Arabella is presented in association with the Canadian Opera Company.
Act I
Financially strapped but aristocratically entitled, the Waldners have raised their younger daughter, Zdenka, as a boy to cut the cost of her upbringing — at least until her beautiful older sister is married. Posing as their son "Zdenko," the girl wards off creditors as her mother consults a fortuneteller, who predicts an advantageous marriage for Zdenka's sister, Arabella. Once mother and older sister have withdrawn, the young officer Matteo enlists his friend "Zdenko's" help in courting Arabella; it's that or suicide, he insists.
As Arabella returns from a stroll and dismisses her eager escort, it's clear she is sought by many other suitors. Three — Counts Elemer, Dominik and Lamoral — have left gifts for her. Zdenka, who secretly loves Matteo, urges her to consider him, but Arabella feels that when the right candidate appears, she'll know. Count Elemer calls on Arabella to go sleigh riding; as she leaves to change her outfit, she alerts Zdenka to a stranger peering up from the street below. Their father, Count Waldner, returns, upset by his many creditors and continuing bad luck at cards. But no sooner has he told his wife of his latest stratagem — sending a letter and photo of Arabella to his wealthy old army buddy Mandryka — than a caller also named Mandryka is announced. Nephew of the elder, deceased Mandryka, he read the letter and fell in love with Arabella's photograph. Now he has journeyed from his rich estates in Slavonia to the Waldners' hotel suite in Vienna solely to lend Count Waldner money and seek his daughter's hand in marriage.
Unaware of this bright new prospect, Arabella is despondent, wondering why no suitor seems right; perhaps the Coachman's Ball that evening will brighten her mood. She leaves with Zdenka for their sleigh ride.
Act II
In the anteroom outside the Coachman's Ball, Count Waldner introduces Mandryka to the Countess and Arabella; recognizing him as the young stranger she noticed earlier, Arabella is instantly drawn to him. Mandryka feels confirmed in his earlier feelings and confides in her, describing his estates, his young wife's death, and his country's tradition of pledging troth with a glass of water — a symbol of purity. Arabella reciprocates his love, but asks to attend the Ball as a last celebration of youth. When she is named its queen, Mandryka is thrilled and lavishes champagne and flowers on the attendees as Arabella bids farewell to her past suitors. Amid the heightened gaiety she does not notice the desperate Matteo seeking some sign of her affection — or Zdenka, who presses a key into his hand, saying it is from Arabella and unlocks her bedroom. Inevitably, Mandryka overhears; disillusioned and angry, he abandons himself to wine-soaked recklessness until Count Waldner calms him and they return to the hotel.
Act III
Arabella returns from the Ball unaware that Matteo and has been in her bedroom, ostensibly with her. Only the absent Zdenka knows the truth. As Matteo tries to slip from the hotel unnoticed, he is baffled to find Arabella already in the lobby, cool and unresponsive; Mandryka, judging the situation as he arrives with the Waldners, urges the Count to demand satisfaction from Matteo. Finally Zdenka rushes in from upstairs. Still in her negligee, she confesses giving herself to Matteo prevent his suicide, and now, wracked by guilt, considers her own. But she is immediately forgiven by her parents and embraced by Matteo. They withdraw, leaving Arabella and Mandryka in silence. Arabella directs him to have a glass of water sent to her room, and then she, too, leaves. Knowing he doubted her, how will she feel about him now? Reappearing at the top of the stairs with her dignity intact and the water glass in her hand, Arabella rapturously reaffirms her love and their engagement.
Artists
Arabella - Erin Wall
Zdenka - Heidi Stober
Adelaide von Waldner - Victoria Livengood
Matteo - Zach Borichevsky
Count Elemer - Brian Jagde
Mandryka - Mark Delavan
Count Waldner - Dale Travis
Conductor - Sir Andrew Davis
Director - Tim Albery
Scenic Designer - Tobias Hoheisel
Costume Designer - Tobias Hoheisel
Lighting Designer - David Finn
Details: Santa Fe Opera Website
Ticket Info: Purchase Tickets Online or by phone at 505-986-5900 Interested Opera fans are encouraged to check out the website for ticket information and seating.
Contact Information:
Monday through Saturday (In-Season Hours)
505-986-5900 or 800-280-4654
9 AM to 5 PM, Mountain Time
boxoffice at santafeopera dot org
groupsales at santafeopera dot org
About SantaFe.com
SantaFe.com provides locals and visitors to Santa Fe alike the most current interactive platform for events, music, arts, business, dining and lifestyle. SantaFe.com is a division of Hutton Broadcasting, located at 2502 C. Camino Entrada, Santa Fe, NM 87507
Contact Information:
Scott Hutton
SantaFe.com / Hutton Broadcasting
http://www.santafe.com
(505) 471-1067 (Media inquiries only, please)