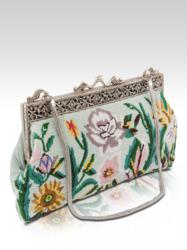 Bags for Modern Women
(PRWEB) August 19, 2012
Online retailer MyBatua.com launched its new range of designer and embroidered handbags. MyBatua also produces these fashion bags in house with talented designers, master- craftsmen and long established production base. These bags add style and glamour to the personalities of its owners.
Mybatua.com is an online store devoted to contemporary and vintage fashion concepts in the hand bags, offering quality, classic, trendy handbags and purses. The collection consists of vintage, embroidered bags suitable for evenings, party and multi occasions. Metal frames make these bags unique in themselves. Variety of material including genuine leather is used to create these handbags.
MyBatua is excited to offer an array of handmade embroidered bag products that cater to all communities and age groups who are looking for high quality fashion, fabrics with unique affair. MyBatua is dedicated to provide you with an enjoyable online shopping experience.
Many categories of bags are available to choose from here such as all-time favorite bags, evening & party bags, leather classics bags and vintage bags to name them.
As the demand for this "MyBatua" brand continues to grow and become overwhelmingly popular, designers of Mybatua.com maintain the latest styles, colors and patterns so the customers can be current and seasonal with every purchase. Each bag is created with the philosophy of everlasting beauty and thus can be passed on to the generation due to its timeless fashion appeal.
"MyBatua Purses" are available in all different shapes and sizes. MyBatua Designer Clutch Purses are popularly utilized by famed celebs. The store prides in having returning customers who keep coming back to fulfill their need of an appropriate bag for occasions coming forth.
MyBatua beautiful bags complement their possessors and add value to their style statements due to its unique feature of metal frames. The online store offers one among the best online service and prides on ensuring that its customers are happy with their shopping experience.