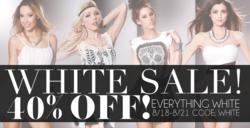 Los Angeles, CA (PRWEB) August 18, 2012
Amiclubwear is at it again. And its loyal clientele will be at the receiving end of another super sale that's sure to tickle their shopping spirits into action even as the summer sun's rays wind down. It's an all-white shopping spree at 40% from 8/17/2012 to 8/20/2012 and all shoppers need to do to avail of it is use coupon code: white. Shoppers who want to look immaculately cool in white better make a mad dash for their keyboards because these ultra-chic white ensembles are sure to go fast once the sale is on!
Why? Purchases of 'white' prove to be good investments because it is a trend that never really disappears in the course of a year. Fashion is also about balance. And the yin and yang of fashion dictates that if the ever dependable black is always on season, so shall white. And when trendsetters start to tire of their lbd's (little black dresses) they start reaching for something lighter in hue. If they are into style, they'll know enough to bypass sweet pastels and go directly for the cleanly crisp and classic white.
If it's good enough for trendsetters to don in the waning days of summer, shoppers eager to try on white better be making a bee-line for the latest white styles they can wear throughout the year. On the roster of whites that are up for grabs are classic white button downs that'll serve shoppers well even as summer deepens into fall. These classic white styles which can even sport black details will be worth the purchase as they will certainly serve as stylish extenders of what shoppers already have in their closet. What's even better is, at Amiclubwear it's at 40% off. So you're making a smart purchase as well as an investment in classic fashion.
The ubiquitous white tee is also at 40% off and since this is a staple that every woman should have in multiples, this is a good chance to buy 1 if not 3 pieces to take women through the year. After all, the white tee can be worn many ways. It can be worn with cut-off shorts for that trip to the supermarket. It can be worn under a nice tailored jacket for a look that packs a punch. It can be dressed up with a soft cashmere cardigan, jeans and killer heels plus statement accessories like attention-getting neckpieces.
Last but not the least; this is any shopper's chance to snag a lwd (little white dress) to provide balance to her wardrobe. Black can drain energy, especially if a woman wears it for far too long. White is lighter on the spirit, and a little white dress will reflect your lightness of being. It will be a welcome and refreshing change from the sleek sophistication of black and other darker colors. Excited shoppers will be given the opportunity to snag all-white-items up for grabs at 40% off from 8/17 to 8/20/2012 by using coupon code: white.