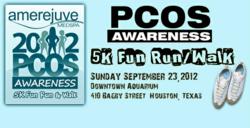 We hope that with our Laser Hair Removal and Medical Weight Loss services we can make a difference in these women's lives and motivate others to do the same.
Houston, TX (PRWEB) August 19, 2012
It could be affecting your mother, your sister or your wife right now and she might not even be aware of it. Because of lack of awareness about PCOS, less than half of women who are suffering from PCOS symptoms are being diagnosed. Although there is not yet a cure for PCOS, treatments to alleviate and manage the symptoms are available. Do you know about Polycystic Ovary Syndrome?
Amerejuve Inc., a subsidiary of American Rejuvenation Centers and Houston's #1 MedSpa, has partnered with the PCOS Foundation to sponsor the PCOS Awareness 5K Fun Run/Walk. The Fun Run is an effort to promote awareness of Polycystic Ovary Syndrome, the most common endocrine disorder affecting women. The Fun Run will be held in Houston on September 23rd at the Downtown Aquarium beginning at 8:00 a.m.
"It is with great pleasure that we are able to help PCOS Foundation raise awareness about this devastating problem for women and look forward to supporting the Amerejuve PCOS Fun Run/Walk every year." said Amerejuve COO Frank Naghavi. "We hope that with our Laser Hair Removal and Medical Weight Loss services we can make a difference in these women's lives and motivate others to do the same."
Polycystic Ovary Syndrome (PCOS) is a disease that affects as many as one in ten women of childbearing age in the United States. This disorder can affect a woman's appearance, menstrual cycle, heart, ability to have children and hormone levels. PCOS causes high levels of male hormones, androgens, in the body, which can lead to excessive hair growth, cysts and missed or irregular menstrual periods. Other symptoms include acne, inability to get pregnant, hair growth on the face or body otherwise known as hirsutism, skin tags, thinning hair and weight gain or obesity, among many others. While there is no cure for PCOS at this time, medical management and basic lifestyle changes can lessen symptoms and help those diagnosed lead healthier, happy lives.
"We are delighted that Amerejuve and its affiliated RedCircle organization stepped up to support us by sponsoring the PCOS Awareness 5K Fun Run/Walk event," said Lisa Benjamini-Allon, Founder and President of PCOS Foundation. "Unfortunately, no single test exists that can diagnose PCOS, and knowing that less than 50% of women with this illness are ever diagnosed, it is of utmost importance to make as many women aware of this disorder as possible."
With visually apparent symptoms such as abnormal hair growth on the face, chest or back, and weight gain concentrated around the abdomen, Polycystic Ovary Syndrome can be a devastating condition for women. Self-esteem issues for those facing this issue can be a major concern, which is why Amerejuve MedSpa is proud to be working together with the PCOS Foundation to promote awareness and offer those suffering from PCOS help in managing these emotionally distressing symptoms. Amerejuve/Redcircle is excited to provide services that include laser hair removal for excessive hair growth and medical weight loss to combat weight gain for the millions of women suffering with this syndrome. With services that include laser hair removal for excessive hair growth and medical weight loss to combat weight gain, Amerejuve/RedCircle provides hope and relief to women suffering from PCOS.
To learn more about PCOS and its effects on women, be sure to tune into KHOU's Great Day Houston's Debra Duncan Show on Monday, August 20th to see their feature on the PCOS Foundation and how you can help spread the word. You can also visit their website here.
To join Amerejuve and the PCOS Foundation in promoting awareness and showing your support for those suffering from PCOS, you can register for the Fun Run/Walk here.
Fees are $20.00 for the walk and $35.00 for the run. The registration closing date is September 21st at 8:00 p.m.
Amerejuve MedSpa's innovative approach to wellness combines beauty, science and service to give its clients options that best fit with each individual's goal, whether that means preventative or restorative (correction, reduction or enhancement) esthetic services. Amerejuve's full line of beauty services, which include laser hair removal, body contouring and cellulite reduction, lip enhancement, facial contouring, wrinkle removal and erasing sun spots and acne scars, are unparalleled in the medspa industry and all available at affordable prices. Amerejuve is also the only medspa clinic in Houston that has 8 locations and offers customer service available to clients 24 hours a day, seven days a week via phone or through their website.
Amerejuve Medspa has partnered with RedCircle to offer the only personalized medical weight loss and wellness management program in Houston. The weight management program is uniquely tailored to each individual's genetic make-up, metabolism and cardiometabolic profile. RedCircle's weight loss and wellness program is much more than a diet; it's a comprehensive but personalized approach to promote and maintain weight loss, improve cardiovascular health, and rebalance and optimize hormone levels. Find out more about RedCircle on their website at http://www.myredcircle.com.
With so many locations throughout the Greater Houston Area, Amerejuve has become Houston's number one provider of laser hair removal, cosmetic and non-surgical skin treatments. MedSpa services include BOTOX®, Restylane®, Juvederm®, Refirme™, VelaShape™ cellulite and circumferential reduction, laser-based skin rejuvenation, skin tightening, microdermabrasion and chemical peels, all available at Amerejuve's five state-of-the-art facilities with locations now in Katy, Sugar Land, Clear Lake and League City, North Houston and the Galleria area. To schedule a free consultation at any of the eight Amerejuve locations in the Greater Houston area, please call (713) 960-6262 or visit them on the web at http://www.amerejuve.com. Amerejuve can also be found on Facebook, Twitter and YouTube where they offer weekly prizes and giveaways.
###