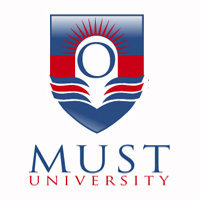 Cleveland, OH (PRWEB) August 20, 2012
MUST University, recognized for its academic excellence, announces record enrollment of 5,021 students, setting the highest enrollment record in the history of the institution.
Amongst the 5,021 students, 45% have enrolled in a master's degree program, 28% in bachelor's degree program, 15% in a doctorate degree program, while the remaining 12% have opted for an associate's degree program.
"More students are recognizing the importance of an online degree and the value that a degree from MUST provides, "said Brain Reeves, communications director at MUST University. "The university offers high-quality teaching methods, personalized student and career services and a variety of outstanding programs in a convenient and flexible setting, thus making for an optimum student experience." Added Reeves.
The University, which is evidently becoming the leading choice amongst students, is the 5th fastest growing online university according to the World Wide Academics. The ranking is based on its affordability, quality of education and academic experience.
This continued enrollment success demonstrates the University's influence and prestige across the world. "Great work is being done by the entire team at MUST and we are so proud of this critical progress, which is driving economic growth and advancing our mission and vision. It is an exciting time in our university's history and everyone from current students, faculty and staff to alumni and supporters are proud of the direction we're headed to." Added Reeves.
The university has experienced tremendous growth in the number of students over the last couple of years and therefore, looks forward to continuously enhance the quality of education and expand its student-base by employing the latest teaching technologies as well as creating unique alliances with corporations and educational institutions.
About MUST University
MUST University is the largest online university, offering more than 1100 self-paced and self-study degree, diploma and certificate programs from 16 specialized schools and 71 different majors. Experienced faculty, global locations, academic affiliates, corporate partners and career center all come under MUST's roof to offer peerless academic experience. MUST University surpasses both traditional and the online institutions in terms of ease & flexibility, affordability, quickness, and quality of education, with innovative and easy-to-use features like mobile classroom, 24/7 consultants, credit transfer facility, scholarship programs, etc.