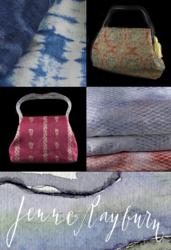 Getting dressed is a transformation - similar to the transformation from raw material to finished piece, it is a process I get very excited about!
Boston, MA (PRWEB) August 19, 2012
Jenne Rayburn Handcrafted Jewelry and Wearable Art, a Boston based designer, has been selected to present her textile and handbag collection, Manu, at the SoWa Open Market from September 2nd – October 28th. The SoWa Open Market is held Sundays, 10 a.m.–4 p.m., at 460 Harrison Avenue, in one of Boston's hippest neighborhoods, The South End, which is touted as the best outdoor shopping in Boston. At SoWa Open Market you can buy top-notch items from local artisans, making everything from couture fashion and leather accessories to jewelry, ceramics, and glassware.
Jenne Rayburn will be formally introducing Manu, her collection of handbags, belts and scarfs, at SoWa this fall. "I've been scouring vintage markets and antique shops for fabrics and components for years, and am really pleased with how they have come together with my own contemporary textile designs in this new line," says Jenne Rayburn. With Manu, Jenne has developed custom-dyed fabrics, including silk, wool and organic cotton, which are then manipulated through traditional and contemporary techniques such as knitting, stitching, felting, batik, crochet, embroidery, quilting and collage. Her materials are carefully chosen to ensure that designs are not only exquisitely beautiful, but also wearable and durable. The resulting fashion accessories are a playful juxtaposition of contemporary and vintage textiles inspired by the rough and weathered New England coastal landscape, the abstract tapestry of the Palouse farmland where she grew up, the geometry of structure in architecture, and the mix of color and ornament in indigenous folk art.
Jenne Rayburn is a Boston-based handcrafted jewelry and fashion accessories design company. "Since I was a child, I have been designing." said Jenne Rayburn "Jewelry, clothing, textiles and spaces – design is my lens onto the world." Her approach is experimental, and while she references and admires formal and classical techniques, Jenne does not feel constrained by them. Fascinated by the play between repetition and pattern, texture and color, yet considering function as much as form when designing, each piece is a unique work of art. What drew her to fashion is its role in constructing identity. "In the process of getting dressed in the morning, we assume an identity - it is a transformative process, which mirrors the transformation from raw material to finished piece - that is very exciting," said Jenne. "I love it when a piece is worn – it transforms the wearer just as the wearer transforms the thing they wear. There is a wonderful relationship between the artist, the work, and the wearer." Embracing simplicity of form, and complexity of color and texture, Jenne creates dynamic wearable shapes that are uncluttered yet interesting, contemporary yet timeless. In addition to showing at SoWa, her fashion accessories are carried at Karenna Maraj, in Belmont, MA.
Known as the place to view and buy the very best in local crafts, at the SoWa Open Market locals and visitors alike can enjoy a shopping experience like no other in Boston. Showcasing an ever-changing group of local and regional artisans not usually represented at local craft fairs and festivals, you will meet the artists, designers, chefs and farmers behind the work. Venders pitch their tents in the parking lot between Harrison Avenue and Albany Street. Several food trucks also serve the market, and a separate farmers' market sells seasonal produce. The SoWa Vintage market is next door where a carefully curated selection of antiques and collectibles are available. Each week offers shoppers something different and unique including original art of all mediums, gourmet food trucks, indie designer clothing and accessories, ceramics, glass, photography, jewelry, handbags, house wares, baked goods, local farmer's produce – you won't want to miss it!
SoWa Vintage and Open Markets are at 460 Harrison Ave., Boston, 800-403-8305
Sundays, 10 a.m.–4 p.m. sowaopenmarket.com sowavintagemarket.com
Visit Jenne Rayburn's collections http://www.jennerayburn.com
Visit Jenne Rayburn on Facebook http://www.facebook.com/Jenne.Rayburn
About:
Jenne Rayburn is a Boston-based jewelry/textile artist who also studied interior design and architecture, and her work explores the convergence of architecture, design, technique and identity. Jenne is known for her designs combining vintage textiles, findings and components, with contemporary textile design. A graduate of the University of Washington where she studied metalsmithing and fiber arts, and of the University of Massachusetts, Amherst with a MS in Design, Jenne has been designing jewelry and accessories for over 20 years. Perpetual curiosity and a passion for experimentation resulted in her first jewelry collection made from etched copper and brilliantly colored enamel. Since then, Jenne has created six unique collections of jewelry and fashion accessories that combine careful workmanship with unique materials and designs. It is her hope that the wearers of her pieces will find joy in a delightful artistic statement, and also something that enhances their individuality and confidence. Her work is carried in local galleries and online. Please visit http://www.jennerayburn.com for Jenne Rayburn's online flagship store. For wholesale information, please visit jennerayburn.com/wholesale.com
###