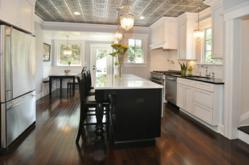 GreenRose Fine Homes is thrilled with our first use of this product. The totally unique design and profile of this 12' faux tin created a spectacular and dramatic (kitchen and butler's pantry) ceilings in the most recent Victorian home rehab.
(PRWEB) August 21, 2012
GreenRose owners and operators Steve Moran and Ken Malian help homeowners greenhab and prepare their homes for resale, attempting to save and reuse as much of the original construction as possible. This not only saves the environment but can also save the homeowners a great deal of time and money. Moran and Malian have stated that their goal is to make living spaces both affordable and enjoyable.
Moran and Malian are especially adept at greenhabbing older Victorian-style homes, which they affectionately refer to as "faded ladies." Amazing before-and-after pictures of GreenRose's recent redesign of an old Victorian kitchen using DCT's 117 Grandma's Doilies Quartet faux tin glue-up ceiling tiles can be seen on the GreenRose website, as well as on their page on DCT website.
Moran and Malian added new fixtures, a gorgeous deep brown Brazilian walnut wooden floor, and a shiny new ceiling. They transformed the kitchen of this old house so completely that it is nearly impossible to believe that it's the same 1940s-era home. The GreenRose owners say that what surprised and impressed their customers most was that the decorative ceiling tiles are not metal but faux tin, making them not only more durable but also much more affordable.
GreenRose has conducted greenhabbing redesigns in Florida as well as New Jersey. They can be contacted by phone at 917-991-2817.
With headquarters in Florida and distributors and installers throughout the United States and select overseas locations, Decorative Ceiling Tiles.com is the online leader in the sales of decorative ceiling tiles.