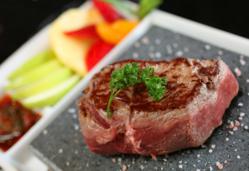 It was better then any steak we have had at a restaurant!
San Jose, CA (PRWEB) August 21, 2012
Rok Cooking's Home Cooking Set has officially been tested and recommended by the Cooking Club of America. The final results are a 90% approval rating, meaning that 9 out of 10 cooks approve/recommend the product. Below are a few of the comments by Cooking Club members who tested Rok's Home Cooking Set:
"I love it and would recommend it to anyone. I have a ceramic stove top and was worried about it cracking my stove top. It worked like a dream. We were very impressed. Thank you for letting me try this product. I will confess I had never heard of this product and had my doubts. NOT ANY MORE...I AM SOLD."
"We bought some steaks to try on our Rok and the ease of use and the cooking experience was fantastic! It was better then any steak we have had at a restaurant!"
"I would recommend this to my family...In fact my daughter-in-law borrowed it and I have not gotten it back...!"
"I highly recommend this product. Our food was exceptional, tasty, and the Rok stayed hot throughout the meal. Our family wanted more of them."
"I recommend this product to anyone who likes to try truly unique & fun items in their kitchen."
About Rok Modern Stone-Age Cooking
Rok is the leader in the design, manufacturing, and distribution of rock cooking products to restaurants and homes worldwide. For nine years, Rok has produced and offered a compelling cooking product to restaurants and individuals looking to think (and cook) outside the box. The Rok Commercial Cooking System includes the Premier 650 High-Temperature Oven designed exclusively for use with hot rocks and delivering energy-efficient, health conscious food preparation with the educated restaurant owner in mind. The Rok Home Cooking system offers the most engaging and affordable interactive hot rock cooking experience for today's discriminating home cook who is looking to prepare healthier and more entertaining meals. To sum it up, Rok is "Modern Stone-Age Cooking at its Finest!" For more information about Rok Cooking, please visit http://www.rokcooking.com.