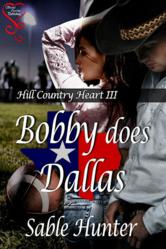 Bobby Does Dallas. . . expect to find it on August 29
Austin, Texas (PRWEB) August 20, 2012
Winners of the Sable Hunter Naughty Place contest are being announced today. Works like "Fifty Shades of Grey" by E.L. James and "Anything He Wants" by Sara Fawkes are making Erotica a quickly growing genre, in part due to the advancement of the eReader generation. On a Kindle or similar tablet, women can be selective and secretive about their literature. Sable Hunter is another author riding this tidal wave of popularity. Her self-published Erotic Romances bring readers into a world of Cowboys, Cajuns, and supernatural events where everyone has a happy ending.
The contest wrapped up on the 16th and 17th after being open a little over a week. The prompt given was "What is the craziest place you have been naughty? Participants submitted their entries over Twitter, Facebook, Sable's website contact form and her personal email. Through thousands of formidably crazy entries, a few stood out as special. Miss Sharon Cameron will be receiving a Kindle Fire as the grand prize winner. Many others, whose answers were simply too good to be ignored, will be receiving the Sable Hunter ebook of their choice.
The contest is part of a new aggressive marketing strategy Sable is implementing in response to growth her company has been recently experiencing. Miss Hunter is taking advantage of Kindle Direct Publishing Select marketing resources such as weekend-long promotions in which titles of her catalogue are available for free. The contest is not the only exciting event occurring this month, however. The release date for "Bobby Does Dallas," the third book in the "Hill Country Heart" series has recently been announced as well. Readers can expect to find it on August 29, 2012 through Secret Cravings Publishing, as well as Sable's website and Amazon.com.
Miss Hunter's novels come in series, (because she tends to fall in love with her characters, too) and take place in the part of the world that she knows best, the southern United States. Her Cowboys and Cajuns have all of the sex appeal and charm as any other heroes in the literary world today, but in every story she writes, her couples fall completely, magically in love. Miss Hunter draws from her own experiences and stories and adds fantasy to the lives of ordinary people. Every character she creates is struggling. Her heroes are warriors. Each of them fights a battle that creates a need for an angel. Her heroines, similarly, are besieged by life. Each one has an obstacle between where they are and the fulfillment of their dreams. When the two find each other, the power and tenacity of the love is the engine that barrels through the fight, or the obstacle, or the issue.
Her "Hell Yeah!" series, starring a family of Cowboys living in the hill country of Texas, has frequented the charts in erotica, romance, and even the elusive fiction on Amazon.com. Her newest project, a series called "Cajun Spice" will have its second installment hit the kindle at the beginning of September.
Sable Hunter has been writing erotic romance novels for a little more than two years. Besides being a premiere author with Secret Cravings Publishing, she also publishes much of her work herself. Her influences are Lorelei James and Maya Banks. At one point, she had three books simultaneously on the Amazon.com "Movers & Shakers" list and one on "Hot New Releases." You can learn more about Sable at http://www.sablehunter.com, http://www.secretcravingspublishing.com/SableHunter.html, or facebook.com/sableserotica. Follow her on twitter @huntersable.