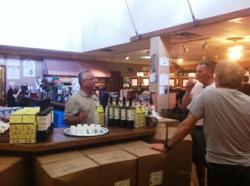 The Vinolicious Girls always pack the house!
clermont, fl (PRWEB) August 20, 2012
Old World Gourmet has teamed with Lakeridge Winery, Flordia's largest premium winery for the annual grape stomp festival August 17-20.
OWG will feature its MVP (most valuable product) Vinolicious Lemon blended with Blanc du Bois, a dry white Lakeridge premium wine.
The team expects over a full house crowd each day as this is the largest Lakeridge event of the year. Excited Vinolicious fans will be able to sample not only the lemoncillo, but see and taste the entireVinolicious lineup. When you pair the Vinolicious mixes with Lakeridge wines, you get a combo that is sure to have a number one ranking with any fan!
About Old World Gourmet
Old World Gourmet is a manufacturer of frozen wine and liquor drink mixes and recipes who has been "serving fun for over a decade". OWG has a complete line of mixes and recipes for whatever your adult drink of choice and promotes all natural and made in the USA products. OWG products are found in finer gift retailers nationwide and online as well as online at the company website owgshoponline.com or on facebook.com/old world gourmet and twitter @oldworldgourmet