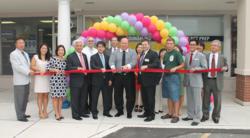 It was wonderful to find that we already have roots in this community because we consider helping our communities to be central to C2's mission.
Parsippany, New Jersey (PRWEB) August 21, 2012
On Wednesday, August 15, C2 Education celebrated the grand opening of a new location in Parsippany, New Jersey. With dozens of local families in attendance, the grand opening was a festive event complete with a ribbon cutting ceremony attended by the Mayor of Parsippany, Mr. James R. Barberio, the President of the Parsippany Chamber of Commerce, Mr. Robert Peluso, and the President of the Korean & American Chamber of Commerce of Hudson County, Mr. Michael Yun, as well as C2 Education's founder and CEO, Mr. David Kim.
Although this is C2 Education's first location in Parsippany, C2 Education has a long history with the surrounding area. Many of the families in attendance had heard about the new C2 center from friends who are enrolled at other local C2 centers in Edison and Wayne. C2 Education also has a long relationship with the Jersey City community, having received a Proclamation from the Mayor of Jersey City in 2010 for contributions to the annual Everything Jersey City Festival.
"I never fail to be amazed at how small the world really is," says C2 Education CEO David Kim. "It seems that everyone at the grand opening had mutual acquaintances. We all knew of each other, but had never met before. It was wonderful to find that we already have roots in this community because we consider helping our communities to be central to C2's mission."
Both Mayor Barberio and Chamber of Commerce President Peluso gave speeches welcoming C2 Education to the Parsippany community, expressing joy at the addition of a new educational resource for local students.
The opening of the Parsippany center marks the ninth C2 Education center in New Jersey and the third C2 Education grand opening this summer. C2 Education is on pace to continue this rapid growth rate in the coming fiscal year, thereby furthering C2's mission to bring higher academic standards and access to educational opportunities to communities across the country.
For more information about C2 Education, their locations, or their services, visit http://www.c2educate.com or call (800) 777 – 7000.
ABOUT C2 EDUCATION:
C2 Education was founded as an in-home tutoring service run out of a Harvard dorm room in 1997. From those humble beginnings, C2 has grown to include more than 120 tutoring centers across the country serving thousands of students each week. C2 students enjoy fully customized programs, one-on-one interaction with highly qualified teachers, and the support needed to succeed throughout their educational careers. C2's results speak for themselves: C2 students increase their SAT scores by an average of 350 points, 100% of C2 students pass state standardized tests, and 85% of C2 students go on to attend a top 50 college or university.