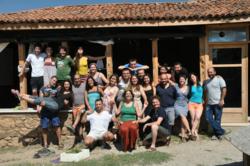 Personal stories make it impossible to generalize – and, therefore, to dehumanize.
Minneapolis, Minnesota (PRWEB) August 28, 2012
In 1990, two enterprising California teenagers started an organization called YES! as a way of connecting, inspiring and mobilizing other young leaders working to affect positive change. Today, YES! has reached more than half a million young people in over 70 countries, primarily through their signature week-long gatherings, called "Jams."
Throughout the month of September, as the organization prepares to host this year's events in India, Jordan, Morocco, Washington D.C. and New York, YES! is partnering with the authors of "Living Proof: Telling Your Story to Make a Difference" (Granville Circle Press) to highlight an important ingredient of their work—the power of personal storytelling as an agent of change.
"Living Proof" is a step-by-step guide that teaches readers how to prepare and share life stories to engage audiences and to advocate for the causes dear to them. According to Shilpa Jain, Executive Director of YES!, that's a practice her organization knows well. "Over and over again, in our leadership Jams and other programs, we've seen what a difference a personal story can make to the individual and to the community," says Jain. "Personal stories make it impossible to generalize – and, therefore, to dehumanize. Rather, they connect us like nothing else can – especially across differences of race, gender, class, nationality, religion and age."
One of the advocates featured in "Living Proof" is Ocean Robbins, who co-founded YES! at the age of 16. Says "Living Proof" co-author Tim Cage, "We first became familiar with YES! when we viewed a video of Ocean speaking at the National Alliance for Peace conference. In his speech, he hit on many themes that resonated with us. He also provided a great example of what "Living Proof" is all about: linking a personal story to a larger mission."
Robbins is the grandson of Irvine Robbins, founder of Baskin-Robbins ice cream company. To motivate others toward meaningful work, Robbins tells the story of his father's turn away from the family fortune to seek a more personally rewarding life. "Ocean knows the power of story to affect others and that knowledge is part of the fabric of YES!, the organization he helped found," says co-author John Capecci. "We are very proud to partner with them."
"I am so grateful that John and Tim have created "Living Proof," says Jain, "a tool that can support Jammers to even more effectively share their powerful stories in public – and inspire many more."
ABOUT YES!
YES! is a nonprofit organization that connects, inspires and collaborates with changemakers to join forces for thriving, just and sustainable ways of life for all. They work at the meeting point of internal, interpersonal, and systemic transformation. For more information, visit yesworld.org.
ABOUT LIVING PROOF
"Living Proof: Telling Your Story to Make a Difference" is the first comprehensive guide to telling your personal story as an effective advocate for your cause or organization ($21.95, softcover, 212 pages, 6"x9". ISBN 978-0-9838703-0-2 Granville Circle Press). It is available at independent booksellers, major online bookstores and at livingproofadvocacy.com. Authors John Capecci and Timothy Cage are communication professionals with offices in Minneapolis and New York.