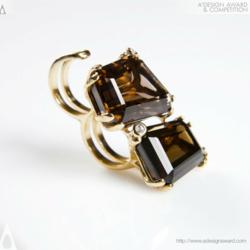 Como, Italy (PRWEB) August 19, 2012
A' Award and Competitions are proud to announce that the design Asymmetrics + Diamonds by Marcia Budet has been announced as a winner of the famed Golden A' Design Award at Jewelry, Eyewear and Watch Design Competition
Jewelry, Eyewear and Watch Design Competition Golden A' Design Award Winner
A' Award and Competitions are happy to share that the design Asymmetrics + Diamonds by Marcia Budet has been acknowledged with the famed Golden A' Design Award at Jewelry, Eyewear and Watch Design Competition picked as a winner by the international referees of the A' Design Awards & Competitions among a great number of submissions.
Insights on Asymmetrics + Diamonds
Marcia Budet, the designer of the awarded work Asymmetrics + Diamonds says "The piece is a free-standing sculptural double ring with large asymmetrical gemstones and diamonds. It never closes in a perfect circle, as it's read as one continuous element that hugs the fingers and provides structure for the gemstones at the same time, giving it an organic feel. The metal's delicate intervention of grabbing the gemstones allows them to appear as floating when worn, yet the metal becomes the extroverted main character of the piece when it's not in use." To learn more visit: http://www.adesignaward.com/design.php?ID=23718
The Golden A' Design Award
The Golden A' Design Award is a prestigious award given to top 3% percentile designs that has attained an exemplary level of perfection in design. The designs are judged by a panel of three different jury which is composed of Academic, Professional and Focus Group Members. The designs are evaluated with score normalization to remove any biases and are voted on aspects such as functionality, ergonomics, engineering, presentation, innovation, usability, fun details, technology, and any other specific points that could be considered, each of these points are further weighted for different jury groups.
About A' Design Award and Competitions
A'Design Award and Competitions, aims to highlight the excellent qualifications of best designs, design concepts and design oriented products. A' Design Award and Competitions are organized and awarded annually and internationally in multiple categories to reach a wide, design-oriented audience. Learn more: http://www.whatisadesignaward.com