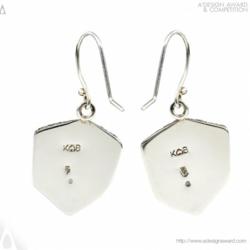 Como, Italy (PRWEB) August 20, 2012
A' Award and Competitions are proud to announce that the project Gemel by Katherine Alexandra Brunacci has been acknowledged with the noteable A' Design Award in Jewelry, Eyewear and Watch Design Category picked as the winner by the international judging committee of the A' Design Awards & Competitions among numerous projects.
Insights on Gemel
Katherine Brunacci, the lead designer of the awarded design Gemel explains "My aim was to create a gemstone using press forming as my method of fabrication, and utilize the product in my historically referenced jewellery designs. The result is a lightweight replica gemstone 'Gemel'. 'Gemel' can be produced in a wide variety of vibrant colours, patterns and sizes. 'Gemel' is lightweight, making it possible for large stone 'Gemel' to be worn as earrings, that are comfortable for the wearer. The use of 'Gemel' gives me the opportunity for a wide range of shapes and colours to be incorporated into my jewellery design." Learn more about this design: http://www.adesignaward.com/design.php?ID=23591
The A' Design Award
The A' Design Award is a prestigious award given to top 20% percentile designs that has achieved an exemplary level of perfection in design. The designs are judged by a panel of three different jury which is composed of Academic, Professional and Focus Group Members. The designs are evaluated with score normalization to remove any biases and are voted on aspects such as functionality, ergonomics, engineering, presentation, innovation, usability, fun details, technology, and any other specific points that could be considered, each of these points are further weighted for different jury groups.
About A' Design Award and Competitions
A'Design Award and Competitions, aims to highlight the excellent qualifications of best designs, design concepts and design oriented products. A' Design Award and Competitions are organized and awarded annually and internationally in multiple categories to reach a wide, design-oriented audience. To learn more visit: http://www.whatisadesignaward.com