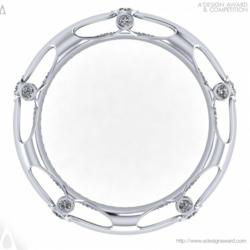 Como, Italy (PRWEB) August 21, 2012
A' Award and Competitions are pleased to share that the work Bamboo Diamond Bracelet by Takayas Mizuno has been awarded with the prestigious Golden A' Design Award at Jewelry, Eyewear and Watch Design Competition highlighted as one of the winners by the international awarding commission of the A' Design Awards & Competitions among a great number of nominations.
About Bamboo Diamond Bracelet
Takayas Mizuno, the creator of the awarded design Bamboo Diamond Bracelet explains "The eye catching design of the bracelet is the result of the synchronicity of 2 unique shapes. The rounded hollow center showcases the beauty of the diamonds by balancing the use of organic and geometric shapes without sacrificing architecturally sound principles of building the structure of the bracelet. Viewed from different angles also gives the impression of a futuristic design." Learn more about the award winning design: http://www.adesignaward.com/design.php?ID=25232
The Golden A' Design Award
The Golden A' Design Award is a prestigious award given to top 3% percentile designs that has delivered an exemplary level of perfection in design. The designs are judged by a panel of three different jury which is composed of Academic, Professional and Focus Group Members. The designs are evaluated with score normalization to remove any biases and are voted on aspects such as functionality, ergonomics, engineering, presentation, innovation, usability, fun details, technology, and any other specific points that could be considered, each of these points are further weighted for different jury groups.
About A' Design Award and Competitions
A'Design Award and Competitions, aims to highlight the excellent qualifications of best designs, design concepts and design oriented products. A' Design Award and Competitions are organized and awarded annually and internationally in multiple categories to reach a wide, design-oriented audience. Learn more: http://www.whatisadesignaward.com