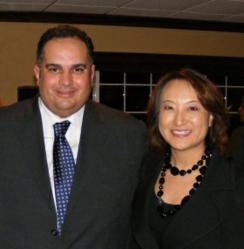 Taxpayers should hold Senator Steinberg, Speaker John Perez, and Assemblymember Mary Hayashi responsible.
Los Angeles, California (PRWEB) August 20, 2012
According to the leaders of several respected physical therapy groups, top California Democrat leaders have amended and advanced Senate Bill 924, a bill rapidly approaching the Governor Brown's desk, which would legalize physician 'kickbacks' and preclude California physical therapists from being paid for treating Medicare patients. According to Doctor James Dagostino, physical therapist and Chair of Government Affairs for the California Physical Therapy Association, the events surrounding the Assembly Appropriations Committee hearing on Thursday, August 16th represent "a poor display of legislative transparency and irresponsible public policy." Dr. Dagostino adds, "The policy decision and the manner in which it was accomplished are equally disturbing. This fiscal committee is not supposed to make non-fiscal amendments to legislation. Our original bill, SB 924, simply allowed direct access to physical therapists' services, but now the powerful Appropriations Committee has amended our bill, in private suspense deliberations, to a form which may deny seniors physical therapy coverage and which legalizes 'thinly-disguised kickbacks' to physicians for referring patients to physical therapy services they own and operate illegally in California. The author of federal anti-kickback statues, Congressman Pete Stark-CA, has used the term 'kickbacks' when referring to the financial arrangement whereby physicians receive passive income by referring a patient to a physical therapy service he owns.
Doctor James Syms, President of the California Physical Therapy Association (CPTA), also questions whether the policy amendments in the Appropriations Committee were within legal and boundaries. "According to the Assembly Appropriations Committee's website, this type of non-fiscal policy change is not under the committee's purview. The committee is supposed to be a fiscal committee, but did not address any of their fiscal concerns in their 'hostile' amendments, which initially sent the bill to the suspense file." Richard Katz, physical therapist and Payment Policy Chair for the California Physical Therapy Association added, "I worked hard to refute the erroneous Assembly Appropriations financial analysis (which sent the bill to the suspense file) while it appears that, all along, there was a separate agenda going on behind the scenes to amend our bill." Doctor Dagostino concluded, "The worst part is that, as of Sunday evening, August 19th, we still cannot get a written or online copy of the amendments to our bill, even though they were decided upon on Tuesday, August 14th without any opportunity for public debate. Today, I am embarrassed to be a citizen of California."
Doctor David Straight, physical therapist and Chair of the California Physical Therapist Private Practice Group summarized, "I am dismayed that it took only 16 seconds (in committee) for the Appropriations Committee to disenfranchise senior citizens and deny them full rights to physical therapy care." Richard Katz, Payment Policy Chair of CPTA confirms the "poorly-conceived" language that the California Medical Association requested to be amended into the bill would prevent physical therapists (who earn doctoral degrees) from 'diagnosing' their patients prior to treating them, and would keep them from being paid for treating Medicare beneficiaries, according to federal regulations."
Doctor Paul Gaspar, Director of the Physical Therapy Business Alliance (PTBA) indicates he was present, in January 2012, at high-level meetings with Senate pro-Tem Darrell Steinberg and various medical associations when the 'diagnosis' issue was discussed and claims it was agreed that the the term, should not be included because physical therapists need to be paid for treating seniors. Dr. Gaspar added, "The current form of the bill, which overlooks millions of dollars of demonstrated California Workers Compensation system 'kickbacks', and denies seniors coverage to physical therapy services is an insult to Californians. Senator Steinberg, Speaker John Perez, and Assembly Member Mary Hayashi appear to be responsible for most of these legislative decisions impairing patients' rights to access physical therapists." According to Doctor Gaspar, the top leadership in the majority party is typically involved in critical policy positions and he suspects they were in this case because of the significant departure from the normal legislative process which occurred in the Appropriations Committee.
Dr. Gaspar points out that SB 924 passed the Senate unanimously and it cleared the Assembly Business and Professions Committee Hayashi chairs 8-1, with only her dissenting. Hayashi has a three-year history of blocking bills which would improve patients' access to physical therapists. She was the only 'no' vote on a physical therapy direct access bill, AB 721-Nava in 2009, (leginfo.ca.gov), but the bill failed because a majority of committee members declined to vote. AB 721 died because Hayashi failed to grant it reconsideration in the second year of the legislative cycle, which is considered professional courtesy and is always extended. Finally, in 2011, Hayashi authored AB 783, which aimed to legalize physician ownership of physical therapy services. AB 783 was killed in 2011 in the Senate Business and Professions Committee with only three 'aye' votes.
Dr. Gaspar also points out that Mary Hayashi, John Perez, and Darrell Steinberg are among the largest recipients of campaign donations from the California Medical Association and Hayashi is among the top fundraisers for the California Democratic Party (maplight.org).
CA PPG suggests that the public should not believe the Democratic leaders' statements on physical therapy related issues because the events and history indicates do not they may not be trustworthy. Doctor Straight asks, "Who should the citizens trust, the words of respected physical therapists or legislators who appear to have conflicts of interest and/or difficulty playing by the rules?"
Doctor Gaspar concludes, "If SB 924 passes, seniors may be subjected to unnecessary physical and emotional suffering, as well as exposure to more expensive or risky medical interventions, such as injections, imaging, surgery, and/or chronic pain medication usage."
In an era of health care reform, the California Private Practice Group asserts that top Democrat leaders have, once again, chosen 'politics as usual' instead of standing with the citizens of California, who want improved access to quality health care.
Source: California Private Practice Group, a section of the California Physical Therapy Association