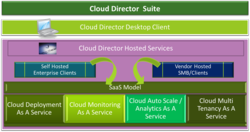 "Our ISV community is alive with innovation, and we're committed to helping our partners drive the next generation of software experiences," said Ross Brown, Vice President of ISV and Solutions Partners for the Worldwide Partner Group at Microsoft.
Maharashtra, India (PRWEB) August 21, 2012
Cognosys Technologies is selected as winner of the IP4Biz Product Showcase at NASSCOM Cloud and Mobility Summit 2012 for its Innovative Multi Vendor Cloud Management Suite: Cognosys Cloud Director, offering not only Single Click Deployment, Auto Scaling, Monitoring & Diagnostics but also 1-Click deploy of hundreds of open source stacks in minutes with automatic backup versioning and 1-Click Restore from your calendar.
Presently, customers are used to physical servers or pseudo clouds in form of virtual machine instances where the client still has RDC/FTP access to machines. Any complex configuration requires manual efforts to support 3rd party GUI Installers, COM registrations, 32 bit binary support,bug-fixing, version upgrades.
To add enterprise applications on cloud requires a more deeper understanding of Cloud internals and non-persistent nature of cloud including web server customizations, 3rd party component installation and the challenge of maintaining runtime configuration which needs to persist across instance recycles. Similarly, for Linux environment, understanding of mounting or dismounting persistent storage spaces across multiple cloud vendors and cloud storage management is required. Overall enterprises need to have deep architectural understanding of vendor provided load balancers,Cloud Webservers, Databases and caching management, virtual private network on cloud and integration with local on premise servers.
Cognosys makes this complete process seamless by offering a complete management system
which not only takes care to remove the complexity of cloud deployment but also makes Integration with open source technologies like MongoDB, Cassandra, Redis, RabbitMQ, ActiveMQ, ZeroMQ, PHP, Moodle, Drupal, Haproxy, Nginx etc, a breeze.
Cloud Director is not only the most popular cloud management suite but also the only multi vendor cloud management application which helps customers to seamlessly transition to Cloud with simple Drag N Drop Technology. Augmenting this is the collection of advanced customization wizards with a user friendly software at its core which works smartly, eliminating tedious manual processes and deployment errors.
Cloud Director incorporates firewall management, 32 bit binaries deployment, COM registrations with built in dependency modules etc. offering complete customization of Cloud deployment cycle for pro users.
Cloud Director is especially focussed on ease of Scalability providing in-depth diagnostics and monitoring service with inbuilt multiple technological stacks support including .NET, JAVA, PHP, Tomcat, Glassfish, Classic ASP, Jboss, Python, Ruby, Clojure, Groovy, Scala etc.
Interfaces targeted for various types of users :
Newbies

Advanced Users

Wizards and customization routines for deployment
Pro Users

Advanced Deployment Strategies
Legacy binaries / COM / Self Hosted Apps
Multi Package & Application Selections installs
Package Injection
Cloud Director is also very suitable for Customers who might not have in-depth Cloud knowledge but have a compatible on-premise solution which could be migrated to Cloud.
Cloud Director Suite offers Cloud consultancy support for all commercial applications while also offering other related SAAS Services like Cloud Deployment As A Service, Cloud Scaling & Monitoring As A Service and a Multi Tenancy Plugin which shall seamlessly convert a single tenant application into a multi-tenant application with minimal code changes achieved through a guided wizard for ease of integration.
Cloud Director Suite gives tremendous advantage to customer to manage cloud products:
Cost Reduction:

Exponential time reduction for cloud transition Leading to Huge productivity benefit and lower TCO with reduced development cycle and Exponentially Reduced maintenance time for small assembly changes, bug fixing, delta changes with Package Injection
Reduced Transition Time for Open Source Stacks with saving on huge development cycle
Reduced scope of manual errors and optimum usage of Cloud resources
Productivity Increase:

Get an upper edge over competitors by offering SAAS applications with Minimum effort
Lowered TCO with Ease of updates & restore points
Cloud benefits with nearly same ease of comfort as an on-premise deployment scenario
Customer Satisfaction:

21 Languages Support Enhanced User Interface and minimal learning curve
Single App Supporting Diverse Open Source Stacks
Entering Sales Cycle Faster implies Faster Revenue Generation for the customer and bottom line impact generates a MUCH higher customer satisfaction level
Please see Cloud Director - Complete cloud management Suite for more information.
About Cognosys Technologies:
Cognosys Technologies is a Global ISV and technical consulting company leveraging cutting edge technologies to provide custom software solutions across diverse domains with special emphasis to healthcare, banking & financial services, ERP/ CRM, high performance Cloud/ Cluster computing, complex event processing, enterprise mobile applications and creative embedded deployments. Combining unparalleled experience, comprehensive capabilities across all industries and business functions and extensive research on the world's most successful companies, Cognosys Technologies collaborates with clients to help them become high-performance businesses.