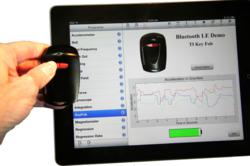 Albuquerque, NM (PRWEB) August 20, 2012
The Byte Works Inc. released techBASIC 2.3 today with full Bluetooth Low Energy support, enabling users to write programs to control the Internet of Things right from the iPhone or iPad. With the addition of Bluetooth LE students, hobbyists and scientists can now connect wirelessly to BLE devices for sports and fitness, heath care, electronics, security and home entertainment.
The Bluetooth LE support is the latest addition to techBASIC's technical computing environment designed for collecting, analyzing and displaying sensor data on iOS. It is the only platform on the iPhone and iPad which allows programming for outside sensor connectivity without having to use a Macintosh and Objective C.
"techBASIC 2.3 lets users communicate wirelessly with all kinds of hardware, like BLE equipped shoes, heart rate monitors, thermometers, and laboratory sensors, to name just a few," said Mike Westerfield, president of Byte Works, Inc. "A complete working program, with source code, is provided on the Byte Works' website and serves as a great example of how easy it is to connect to the Internet of Things using techBASIC 2.3."
Bluetooth LE Requirements: iPhone 4s, iPad 3 or later
techBASIC Requirements: iPhone, iPod touch or iPad running iOS 5 or later
Pricing and Availability techBASIC is $14.99 (USD) and is available worldwide in the App Store Utilities category.
The Byte Works has been creating quality "apps for people who think™" since 1982. Current directions include apps for scientific programming, calculators and astronomy programs for iOS. Past efforts include developing Apple Programmers Workshop and the award winning ORCA line of compilers for the Apple IIGS, the HyperLogo™ scripting language for HyperStudio™, and MediaBlender™, a multimedia authoring tool for education.