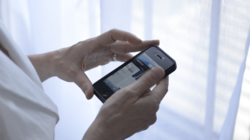 "Balluun Mobile is for our creative community of fashion professionals who need the versatility, power and simplicity of mobile apps to manage their businesses," said Peter Koch, CEO of Balluun. "Mobile has been part of our eco-system from inception."
Foster City, CA (PRWEB) August 21, 2012
During the 2012 MAGIC show, social business upstart Balluun, today announced the availability of its patent-pending technology platform for emerging fashion designers and the wholesale marketplace for Apple iPad® and iPhone®. Additionally, Balluun added another new advisory board member, fashion lawyer and partner with Davidoff Hutcher & Citron and Fashion Roundtable Founder and Fashion Service Network, Charles Klein. "We are really excited to gain valuable insights and knowledge from Charles," said Peter Koch, CEO of Balluun. "He brings a distinct voice to the already powerful group we have in hand."
Balluun mobile pulls from the clean and easy to use interface of its web site flagship and allows Balluun members to easily connect with one another, speak about outstanding order details, new products, view lookbooks and so on, anytime, anywhere.
"Balluun understands that our creative busy community of fashion professionals are travelers and need the versatility, power and simplicity of mobile apps to manage their businesses," said Peter Koch, CEO of Balluun. "We have created a seamless connection to information and made it available on all platforms for our users. This is a powerful proposition and has been part of Balluun's eco-system from our inception."
Balluun's mobile apps, available from the App StoreSM, are a complement to the Balluun web site and extend the power of the company's solution for the "professional digital nomad." The mobile apps deliver real time access to business network connections, product orders and communications while on the road so users can stay on top of their business, always.
About Balluun
Balluun's mission is to empower fashion designers by lowering barriers to entry for emerging designers to launch their brand, sell their products to buyers and connect them online to create long-term relationships and healthy businesses. Balluun redefines a whole new way of conducting business by leveraging its roots in the information technology world (Cisco), commerce marketplace (eBay) and banking (UBS). The company has built a patent-pending social business platform dedicated to the unique needs of the fashion industry. With a guiding philosophy of connecting everyone and helping everyone to grow, Balluun is a company that is re-imagining how fashion businesses are created and managed with a technology-driven social business model. For more information and to sign up on Balluun, please visit: http://www.balluun.com.
Apple, iPhone, iPad, are registered trademarks of Apple, Inc. App Store is a service mark of Apple, Inc., eBay, the eBay logo, Cisco, the Cisco logo, UBS, the UBS logo are trademarks of their respective companies.