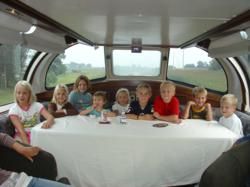 At Train Chartering, we are lucky to be able to offer a range of options for family travel, from VIP to value budget, from private train to escorted group, from Alaska to Vladivostok.
Chippenham, UK (PRWEB) August 21, 2012
Train Chartering has released a number of opportunities for multi-generational travel. Quality family time on a rail journey, whether in a private train, rail car or carriage, is an important service which we are proud to deliver.
Trains, carriages and rail cars are offered by Train Chartering, the Luxury Train Club and Private Rail Cars in many parts of the world which provide an ideal environment for re-connecting, from great grandparents to the newest addition to the family.
In Austria, for example, Private Rail Cars and the Luxury Train Club offer the Majestic Imperator's re-created imperial carriages from the late 19th Century, the age of empires. These rail cars travel between Vienna, Prague, Budapest and Salzburg in a style sure to create lasting memories. Prices start from EUR7,000 (USD8,600 / GBP5,500) for a private carriage on a public train.
The USA has a number of railcars to which Train Chartering's Private Rail Cars service has access. Amongst the most stylish are the Northern Sky and Northern Dreams, the former a dome car for a stunning 360⁰ panorama of the landscape and 4 state bedrooms, and the latter a sleeper – lounge for 12, with bedrooms and private bathrooms. Together they form the basis of a magical way to travel with up to 20 family members, perhaps from Chicago or New York to Steamtown, featured by the US's National Park Service, or to the West Coast and along the Pacific coast. Generally, prices for rail cars start from USD9,000 (GBP5,700 / EUR7,300) per car per day.
The UK, like other countries, has an heritage railway sector. Train Chartering arranges the private hire of steam trains on these short-line railroads for family occasions, together with onboard dining as required and the use of stations for off-train entertainments. Prices start from GBP2,000 (USD3,150 / EUR2,500) for a private steam train on an heritage railway.
The Luxury Train Club features 23 luxury trains with journeys in 34 countries and 4 continents. The clear and easy-on-the-eye display of information makes it simple to discuss options with parents and siblings. Although some luxury trains are not ideal for younger children, the Luxury Train Club can often arrange a private carriage for the family to enjoy their special moments.
There are a wide range of options for quality family travel from Train Chartering such as a private carriage on Eurostar from London to Paris or Disneyland Paris (guide price from GBP8,000 / EUR10,000 / USD12,500) or the private hire of a luxury train from Venice to the Italian Lakes as an epic post-cruise tour (guide price EUR76,500 / GBP60,000 / USD94,000).
Simon Pielow of Train Chartering, "Helping families have quality time together should be important for every leisure travel supplier. We are lucky to be able to offer a range of options, from VIP to value budget, from private train to escorted group, from Alaska to Vladivostok."
Enquiries
Simon Pielow is available to answer questions about Train Chartering on 01249 890 176
About Train Chartering
Train Chartering hires out trains and carriages for many purposes, from family and association travel, film locations, to corporate hospitality, incentive travel, VIP travel and train journeys in the UK, Europe, USA and worldwide. Operating for over 14 years, we work with very small groups (such as for luxury train travel) as well as transporting larger groups to, for example, conferences or world-class sporting events.
Train Chartering's key websites include:
Train Chartering - Charter Trains and Private Carriages
Luxury Train Club - Your Concierge for Luxury Trains
Private Rail Cars - in the USA and Elsewhere
Follow Train Chartering & Private Rail Cars on Facebook
Charter Trains – The Blog
About Northern Sky
Northern Sky land cruises travel by being added to Amtrak trains and may be chartered by a family, group of friends, corporate travel or any combination. You determine where you want your private railcar excursion to go - which route you want your railcar to take - and how long you wish to stay at your "train vacation destination."