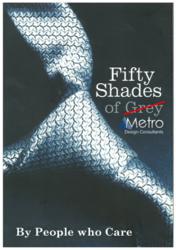 Pinterest is a viral and socially engaging way to feature a cross section of our best design work globally
London UK (PRWEB UK) 21 August 2012
Award winning office design company Metro Design Consultants have created two guides to aid companies who are looking to undertake high specification office refurbishment projects, better understand the process involved in creating an optimal working environment.
Michelle Charles-Beckford Director at Metro Design said" The first guide entitled Fifty Shades of Office Grey by Metro was inspired by female members of the company who were all reading the bestselling book Fifty Shades Of Grey, so we decided to create a pictorial guide showcasing 50 of our best office transformations,
Using the social media platform Pinterest for its viral and socially engaging way to feature a cross section of our best design work globally, as we have completed multiple international projects for companies like Harley Davidson and Dolby to name but a few".
Daniel Taylor founder of Metro Design Consultants said "There has been occasions when we have challenged the original design plans of some of our past clients in tendering stage which has landed us many prestigious projects over other refit firms, because of design flair and attention to minuscule details which has lead to the team being dubbed the Michael Angelo of interior office design".
The second guide is ( BDMS) Build Design Metro Style, The Ultimate Guide on:
How to select a office interior refit firm that delivers wow factor appeal.
To obtain you free copy of The BDMS Ultimate Guide simply Call 020 7928 9000
To Connect with us on social media Visit
Pinterest http://pinterest.com/metrodesignlon/
Twitter https://twitter.com/Metrodesigncons
Facebook http://www.facebook.com/pages/Metro-Design-Consultants/176837705748215
YouTube http://www.youtube.com/user/MetroDesignConsultan
Flickr http://www.flickr.com/photos/metro-design-consultants/
Tumblr http://metrodesignconsultants.tumblr.com/
About Metro Design Consultants Ltd.
Metro Design Consultants is a design and build company with a furniture division established by Daniel Taylor in 1998.
Based in London, its approach is design-led with a h eavy emphasis on emerging technology. Metro takes great pride in paying attention to detail and in harnessing technological innovation to evolve aesthetically pleasing and functional spaces for people to enjoy and work effectively.
Listed amongst Metro's clients are multi-nationals and new start emerging companies, incorporating those operating in the media, advertising, legal, financial and health sectors. These include the National Health Service, Trade Union Group, Amicus, Aviation company Boeing, reinsurance company Endurance and major consumer insurance concern Domestic & General.
About Daniel Taylor
Daniel Taylor is the Managing Director of Metro Design Consultants, a fashionable design and build company with an emphasis on emerging technology, as an employer Daniel embraces diversity and endeavours to provide relevant training to all his staff, he is also committed to nourishing creative interest in young people, which he encourages through mentoring schemes and competitions.
Daniel has extensive work experience within the design industry and has a reputation for winning high profile contracts including the Conservative Party's Headquarters in Victoria Street London and an unusual assignment collaborating with scientists and engineers at the UK's Transport Research Laboratory Headquarters in Berkshire.
Daniel sits on the board of the Creative and Cultural Skills Council, the licensed Sector Skills Council for Advertising, Crafts, Cultural Heritage, Design, Music, Performing, Literary and Visual Arts.
Daniel is married to Dawn and they have four children, he is a real gadget enthusiast and a big collector of 60's memorabilia.
About Pintrest
Pinterest lets you organize and share all the beautiful things you find on the web. People use pin boards to plan their weddings, decorate their homes, and organize their favourite recipe's. Best of all, you can browse pin boards created by other people. Browsing pin boards is a fun way to discover new things and get inspiration from people who share your interests.