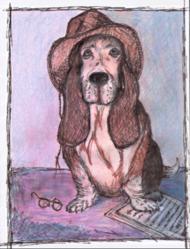 Favorite Quote: The left single-quote '
Camp Hill, AL (PRWEB) August 29, 2012
Most of the stories will make funnybones ache, but a few will make heartstrings feel like fresh sutures. A child tries to eat a biscuit that is so hard firemen must remove it; Sammy the Basset steals a baloney his own approximate size and shape; there is no reset button when a neighbor knifes the ice cream man over a thin dime; and, "A Fine Bordelleaux" moves into the house nestled between a child's school playground and his church.
I Talk Slower Than I Think chronicles the adventures and misadventures of a Georgia family growing up in the Sixties and Seventies. Although fans of Southern humor will enjoy the flavor, growing up transcends time and place.
The book gives parents permission to park the helicopter, grab Granny's best tea strainer, and go outside to catch tadpoles with the kids.
For more information, visit Barnes & Noble, CreateSpace, Amazon, or C. D. Bonner's website.
"I Talk Slower Than I Think"
By C. D. Bonner
ISBN-13: 978-0-9857950-0-9 (print)
ISBN-13: 978-0-9857950-1-6 (E-book)
Softcover: $14.99 | E-book: $3.99
About the author
C. D. Bonner was born and raised in rural Georgia but can claim naturalized citizenship in Tallapoosa County, Alabama and Virginia Beach, Virginia as a retired Coast Guard veteran. C. D. is a skilled Studebaker mechanic, tube radio repairman and weekend gold prospector. He is recording two albumns of original humor and writing a new compilation of short stories.
**FOR IMMEDIATE RELEASE**
For review copies or interview requests, contact:
Clarence Bonner
Phone: 757-217-7066
Email: cdbonner(at)cdbonner(dot)net