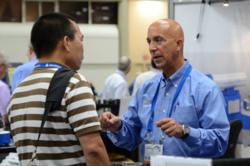 The beneficial interchange of research and development across many technical disciplines continued to be a strong draw.
San Diego, CA and Bellingham, WA (PRWEB) August 19, 2012
Nearly 4,300 total registered attendees had participated in SPIE Optics and Photonics by the close of the last day on Thursday. The five-day event was held in the San Diego, California, Convention Center, and included approximately 2,900 technical presentations and a record-setting 241 exhibiting companies.
Technical highlights included presentations on new remote sensing solutions for monitoring climate change, nanostructures, graphene and other materials for photovoltaics and communications, and numerous other advances.
The beneficial interchange of research and development across many technical disciplines continued to be a strong draw at the annual event, where inspiration and ideas are shared along richly diverse topics, and developments in one technical field frequently spark application ideas in others.
"We have known SPIE for a long time and came to Optics and Photonics because we are ready to expand into areas beyond semiconductors," said Horst Groneberg of Checkpoint Technologies. "We are here because we want to be in front of people who build things. In addition to finding new customers we are looking to create new relationships with other exhibitors who will become our suppliers."
In symposium-wide plenary talks, Vladimir Shalaev (Purdue Univ.) gave an update on the latest in metamaterials, and Bahaa Saleh (CREOL, Univ. of Central Florida) presented an analysis of disruptions and trends in optics and photonics.
A few technical highlights of the meeting were:

CO2 sensor applications for climate change, including significant new results in radiometric stability of the JPL Atmospheric Infrared Sounder reported by Hartmut Aumann
first time commercialized technology for light trapping that captures virtually all photons using self-assembled nanostructures with an improved CIGS process that boosts solar cell efficiency while using much less indium, announced by Billy Stanbery of HelioVolt
advances in graphene with applications in areas such as communications and photovoltaics, with reports from Sasha Grigorenko, Kostya Novoselov, Liam Britnell, and Andre Geim at Univ. of Manchester, and Frank Koppens and teammates at ICFO and CSIC
laser beam shaping by Andrew Forbes of CSIR and Univ. of KwaZulu-Natal
new synthetic materials with photonic properties not found in nature, with applications in nanoscience and metamaterials
display by Christian Uhrich of one of the first roll-to-roll produced OPV cells from Heliatek's new pilot line in Germany
a system based on work in astronomy using optical and mechanical elements to develop concentrating photovoltaic (CPV) systems, by Roger Angel (College of Optical Sciences, Univ. of Arizona).
Other important themes of the week -- inspired in part by the release Monday and first public briefing Wednesday of the National Academies' report "Optics and Photonics, Essential Technologies for our Nation" -- were the issues of training the workforce for the next generation, and communicating with policy makers, CTOs, and others about the vital role of the field as an enabling technology in the economy.
A spill-over crowd stayed late in the exhibition hall Wednesday afternoon for the report briefing with co-chairs Alan Willner (Univ. of Southern California) and Paul McManamon (Univ. of Dayton and Exciting Technologies) and SPIE Industry Analyst Steve Anderson and CEO Eugene Arthurs. Speakers provided perspective on jobs and revenue resulting from optics and photonics, and endorsed the idea of formation of the National Photonics Initiative recommended by the study could have in the U.S. Find out more about the report at opticsandphotonics.org.
Read daily news from the event at http://www.spie.org/opnews.
Conference proceedings will be published individually in the SPIE Digital Library as soon as approved after the meeting, and also in collected print and digital volumes and collections.
SPIE Optics and Photonics 2013 will be held 25-29 August.
About SPIE
SPIE is the international society for optics and photonics, a not-for-profit organization founded in 1955 to advance light-based technologies. The Society serves nearly 225,000 constituents from approximately 150 countries, offering conferences, continuing education, books, journals, and a digital library in support of interdisciplinary information exchange, professional growth, and patent precedent. SPIE provided over $2.7 million in support of education and outreach programs in 2011.