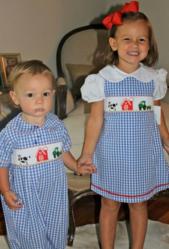 Rock Hill, SC (PRWEB) August 21, 2012
Bulldogs and Bows has released their 2012 fall line of smocked children's clothing. The fall line will feature all new applique and gingham designs for year round, with cute lions, birds and a farmyard theme. Select items are designed with seasonal themes such as snowmen and snowflakes. The new fall line will feature corduroy alongside cotton materials.
The fall line offers pant sets, rompers and scalloped collared shirts for both girls and boys. The girls clothing line features applique designs and geometric patterns with gowns and bishop dresses. Boys clothing includes cotton and corduroy longalls as well as gingham style pants.
New Bulldogs and Bows trunk shows will be scheduled for the fall. Trunk show locations will be in select cities in the southeast. Featured states for trunk shows are Georgia, North Carolina and South Carolina. Contact Bulldogs and Bows to inquire about setting up a trunk show in your area.
About Bulldogs and Bows
Bulldogs and Bows is a clothing line started by designers Riley Leitner and Lacey Smith. Leitner and Smith launched Bulldogs and Bows in 2011. Both founders wanted to make traditional smocked children clothing to sell at affordable prices. Design inspiration comes from their kids and growing up in the south. All products are designed by Leitner and Smith.
contact(at)bulldogsandbows(dot)com
bulldogsandbows.com