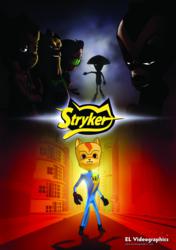 Los Angeles, CA (PRWEB) August 20, 2012
Online kids channel Toon Goggles (http://www.toongoggles.com), the innovative free portal that provides valuable viewing data to content producers, has signed an agreement with Malaysia-based Backbone Entertainment to bring two of the animation studio's premier properties to Toon Goggles' growing library of content, it was jointly announced by Stephen L. Hodge, Managing Director, Toon Goggles and Evelyn Lee, Managing Director, Backbone Entertainment.
The agreement sees two of Backbone's animated programs, 13 episodes of "Sugar Pals" and 13 Episodes of "Stryker," now being available to Toon Goggles audiences throughout the US and Canada.
"We welcome Backbone to our Toon Goggles family of programming," said Hodge. "Backbone is a recognized pioneer in producing great and innovative 2D and 3D animation. We are thrilled to have them as our newest content partner and look forward to sharing their distinctive animation with our young viewers.
"Animation is the buzzword of the future and we inspire to touch the hearts and minds of millions of people through this medium," said Backbone's Lee.
About Sugar Pals and Stryker:
Sugar Pals (13 X 22 min), follows the wacky adventures of Gloria Baker and scientist Charlie who bring the Sugar Pals to life.
Stryker (13 x 22 min), is set in a world where only cats and rats exist, the two are consistently torn apart by simple but constant misunderstandings. The defenseless cats turn to a speedy super hero named Stryker, who pursues peace, not by winning battles, but by winning hearts with understanding, hope and team work.
About Toon Goggles:
ToonGoggles.com is the premiere 24/7 online destination for children's entertainment. The safe and protected children's online channel offering a vast and diverse amount of child and parent friendly cartoons (clips, trailers, episodes, games and features) is available for FREE. We are fully COPPA-compliant (Children Online Privacy Protection Act), boasting a strictly enforced screening process to ensure that all content presented is clean, safe and age appropriate Toon Goggles is also available on all smart phones and tablet computers for viewing anywhere, at any time.
Toon Goggles iOS app is available for download in the iTunes App Store and for the Sony Tablet S in the Google Play Store.
Link to download the Toon Goggles iOS App:
http://itunes.apple.com/app/toon-goggles-cartoons-for/id491158457?mt=8
Link to download the Toon Goggles App for Sony Tablet S:
https://play.google.com/store/apps/details?id=com.toongoggles.b
We feel that children should be able to view cartoons based off their own likes and interests. We make it simple for them with six different category offerings and an easy keyword search box. At Toon Goggles, children can create their own Facepage and add their favorite cartoons to their Toonstrip for future viewing. We want children to be in charge of their viewing experience and watch the content they want, when they want and where they want. As such, we encourage parents to review Toon Goggles and participate in their children's viewing and browsing experience.
About Backbone Entertainment:
Backbone Entertainment with MSC status has been established since 2005.
Based in Kuala Lumpur, Backbone grew as the industry proliferated and earned itself a solid reputation within the animation and visual effects community. Backbone appeals to those in need of creative solution and visual breakthroughs.
From content development toanimation productions, their vast portfolio includes television commercial, 2D and 3D animated series, visual effects, architectural walk through and New Media.
MEDIA CONTACTS:
John Russel ▪ jrussel@russelprla.com ▪ 818.561.5072
Sabrina Propper ▪ spropper.rpipr(at)gmail(dot)com ▪ 818.515.5798