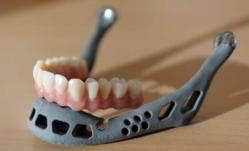 Charlotte, NC (PRWEB) August 22, 2012
A recent study by the University of Michigan School of Dentistry, the Michigan Center for Oral Health Research, and Aastrom Biosciences Inc., located in Ann Arbor, may have developed a new method of re-constructing the jaw when teeth have been lost. According to the research, dentists may be able to re-grow bone using stem cells instead of replacing it with synthetic materials as we do now.
"This is potentially great news," says Dr. James A. Wells of South Charlotte Dentistry. "Patients who have experienced bone loss or are missing teeth can greatly benefit from any new advances."
"In patients with jawbone deficiencies who also have missing teeth, it is very difficult to replace the missing teeth so that they look and function naturally," said Darnell Kaigler, principal investigator and assistant professor at the U-M School of Dentistry. "This technology and approach could potentially be used to restore areas of bone loss so that missing teeth can be replaced with dental implants."
Kaigler went on to say that the treatment would be perfect for patients who have experienced bone loss due to trauma, disease, or birth defects. Jaw loss is especially difficult to treat due to the fact that the treatment must involve repairing bone, gum tissue, and in some cases even skin. The benefit to the new treatment is that instead of using synthetic materials to fix the problem, we use the patient's own cells. The body is less likely to reject something that comes from itself.
Researchers used an experimental tissue repair treatment using stem cells to re-grow jawbone after tooth removal. Another control group was given traditional therapy so that the results could be compared.
The results of the study have been promising. Overall the stem cell group healed at a higher rate than the control group. Patients in each group were given dental implants to replace their lost teeth and then given an opportunity to heal. The stem cell group re-grew jawbone faster and with greater density than the control group. The stem cell group also needed less introduction of new bone before implants could be attached.
The research did not introduce stem cells from outside the patient's body. Researchers collected stem cells from patients' hipbones to use in the treatment. These hip cells were then processed by special machinery at Aastrom. In this case the machinery was directed to grow the hip cells into stem cells. The researchers then simply placed the cells in the mouth and jaw of the patient and allowed the cells to do the rest.
Researchers on the project do not think that stem cell therapies for the mouth and jaw are in our near future, though. Dr. Kaigler noted that these therapies are probably five or even ten years away right now. But with the development of further research and more trials involving greater numbers of patients and larger jaw defects, this stem cell therapy will likely be available in the foreseeable future.
Dr. Wells says, "Any good news for our patients and future patients is good news to us!"