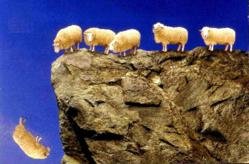 The fiscal cliff is a very real thing," says Dan Robins of Horizon.
Columbus, Ohio (PRWEB) August 22, 2012
Experts at Horizon Business Solutions are telling business owners to brace for the impact of the "fiscal cliff." What is the "fiscal cliff?" And what happens to small businesses if the U.S. goes over it at the end of the year?
"The fiscal cliff is a very real thing," says Dan Robins of Horizon. "Government policy can impact businesses in a very real way. They'll see it in their bottom line."
The fiscal cliff is, of course, metaphorical, but it's a frightening prospect just the same. The cliff refers to a set of U.S. fiscal policies and practices that are set to change on or around January 1, 2013. These expiring changes could potentially create sharp, sudden changes with far-reaching impact on businesses and individuals.
The most well-known are the so-called Bush-era tax cuts of 2001 and 2003, set to expire as 2013 gets under way. If expiration is allowed, there are tax consequences, such as payroll tax increases, which could total as much as $120 billion. In addition, the application of the Alternative Minimum tax could apply to a greater number of people.
Some federal unemployment benefits are set to expire at the end of 2012, cutting payment to out-of-work job seekers by $34 million. This change could have a trickledown effect and impact welfare claims, bankruptcies, foreclosures and the housing market.
There are even more broad fiscal issues which could have an impact on the federal budget, such as the kick-in of the sequester, the resultif the Congressional "super-committee" fails to reach agreement on spending issues. This will require cuts of $86 billion, much of which would come from defense spending.
And the debt limit, which was the cause of much political wrangling and brinksmanship before Congress voted to raise it last January, will be reached again. "These are big numbers and to think that businesses won't be feel them is foolish," says Robins of Horizon.
Projections about the potential impact on the economy vary, but experts predict as much as a 3.7 percent to 5 percent drag on the GDP (gross domestic product). That translates into $607 billion to $750 billion.
The prospect of these events is already impacting the national business climate by creating uncertainty about prospects for 2013. And individual workers and business owners should consider deferring income by making maximum contributions to retirement plans.
It's unlikely in this election year that anything will be done about these issues in Washington before the cliff is in sight. But it isn't too early for business owners to start preparing for the consequences.
"Planning can make all the difference," says Robins. "Make sure you've got all your numbers straight before it comes."
Contact Horizon Business Solutions today for assistance with tax planning, unemployment and other benefits for your small business. We will stay on top of the "fiscal cliff" issues and changes, and we can come up with a plan to meet the small business owner's needs.