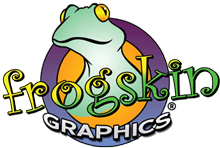 The new design tool cuts out the middle man and allows the customer to get the exact look they need
Baton Rouge, LA (PRWEB) August 21, 2012
Frogskin Graphics - a leading edge provider of quality custom signs and full color banners announces to launch of it's new website http://www.frogskingraphics.com.
This new website makes designing and ordering custom signs,banners and custom graphics easier than ever before. The new interface for sign design allows the customer to design their sign themselves.
"The new design tool cuts out the middle man and allows the customer to get the exact look they need" said Billy DeMoss, owner of Frogskin Graphics. "Once they are completely satisfied with the design of the sign or banner, they can view an online proof and place the order. Or save it for later. They can even share it with friends via Facebook or email."
The user friendly website allows customers to:

choose a sign, banner or other product
select the size and quantity of sign
select the material
design based on professionally designed sign templates or start from scratch.
attach production or shipping instructions
User friendly pop-up windows guide the user through the process if they have questions. Users also have the ability to upload logos and photos to be placed on the sign or banner. The tool will check the uploaded art to make sure it meets printing guidelines so users always get clear crisp images and logos.
Users have the option of opening an account on the site which will allow the customer to save designs and previous orders for purchase at a later time.
"We also have begun a concerted effort to increase the helpful content on our site." said DeMoss "We want customers to be able to come to our site and find any information about vinyl signs and banners they need. From design tutorials to installation videos."
About Frogskin Graphics
Frogskin Graphics based in Clinton, Louisiana (near Baton Rouge) provides full color digital printed graphics and signage at affordable prices. Since 2003 Frogskin Graphics has provided excellent service to real estate professionals and business owners alike. For more information, visit http://www.FrogskinGraphics.com