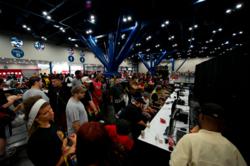 Houston is a huge market that needs and wants a first rate consumer technology showcase.
Houston, TX (PRWEB) August 21, 2012
Texas' International Comic Con is leveling up! Comicpalooza has announced a dramatic increase in their technology & video gaming exhibits and programming. Comicpalooza's total exhibit and event space is increasing from the 380,000 square feet available in 2012 to over 500,000 square feet for 2013. The technology exhibit space allocation will at least quintuple while video gaming is likely to triple or quadruple. Programming will also expand, largely through partnerships with organizations like TimeGate Studios (Greater Houston's largest video game developer), Houston Community College, the Art Institute, and others. "We're incorporating a wide range of programming, from introductory seminars on graphics and design all the way to discussions about tomorrow's innovations," explains John Simons, founder and chairman of Comicpalooza.
Comicpalooza's tech offerings for 2012 included an exhibit area anchored by Best Buy, industry panels and workshops that featured participation from TimeGate Studios, Houston Community College, an assortment of smaller video game companies, and cash prize video game tournaments that attracted top level pro gamers. "The response was very positive," says Simons, "Houston is a huge market that needs and wants a first rate consumer technology showcase, and we are moving quickly to realize that goal as part of Comicpalooza."
One of the primary driving factors that paves the way for such expansion is Comicpalooza's high growth curve. After only three years as a convention, their 2012 event posted over 10,600 total attendance with an 88.5% increase in paid registration over 2011, which was up from a 55% growth rate the previous year. Attendance for 2013 is expected to top 20,000. The speedy growth is attracting high-profile partners in technology and education and has led to ambitious expansion plans. "Our goal is to bring the right combination of technology and video games together to create an exceptional consumer and industry tech show experience for Texas. We're just getting started," concludes Simons, "2013 is going to be all fireworks for us!"