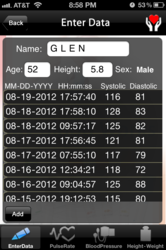 (PRWEB) August 20, 2012
Glen Ogle, the creator of virtual medial app MyBloodWorks, is endorsing a recent article featured on ConsumerReports.org that, along with the American Heart Association, advises people to check their blood pressure often throughout the day – especially if they have high blood pressure (hypertension).
"Our medical experts say people with high blood pressure should check their levels at least twice a week at about the same time of day," writes ConsumerReviews.org's Sue Byrne, "and as often as twice a day if there are any problems or if your treatment has changed.
Ogle, who has undergone three kidney transplants and nine years of dialysis, routinely uses MyBloodWorks to track his blood pressure levels. As a result of that practice, he recently unravelled a health mystery that could have had serious consequences if left unsolved.
"I was experiencing unusually high blood pressure levels, but wasn't sure why," commented Ogle. "By monitoring my blood pressure on MyBloodWorks, I discovered that stress from work was triggering my high blood pressure. Armed with that valuable information, and after talking to my physician, I adjusted the time of day I was taking pills, and my levels have since stabilized."
MyBloodWorks is an innovative iPhone health app that routinely appears on the iTunes "What's Hot" list. It's a virtual medical secretary and database that lets users track their vitals and blood levels, store emergency contact information, keep track of pills and medications, track past and future physician appointments, and email information to their physician at the touch of a button. And since all data is stored locally on each user's device, nothing confidential is ever transmitted to, or by, a third party, including Ogle's company Gogle LLC.
Added Ogle: "Hypertension and other blood pressure related issues are on the rise. Making lifestyle changes – even as something as minor as changing when pills should be taken -- can make a huge positive difference. Of course, it goes without saying though that people should always consult with their physician before making any changes."
People with hypertension or any other medical condition that requires tracking and monitoring of vitals and blood levels, can download MyBloodWorks from the iTunes store here. The app is compatible with iPhone, iPad and iPod touch, and requires iOS 3.0 or later.
For more information or media inquiries, contact Glen Ogle at glen(at)mybloodworksapp.com.
About Gogle LLC
GOGLE LLC is dedicated to creating the best patient medical apps. The company's flagship app, MyBloodWorks, tracks health through vitals and blood tests, and functions as a personal medical filing cabinet and secretary – and all while being simple, easy and intuitive to use. Learn more at MyBloodWorksapp.com.