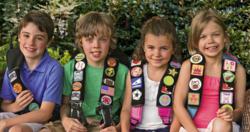 "SkoolTagz give kids a fun way to dress up their backpacks and express their personalities," said Shannon Blake. "It's a fun, colorful, and durable fashion accessory that won't get lost."
Atlanta, GA (PRWEB) August 21, 2012
Two enterprising Atlanta businesswomen – who are busy mothers as well - have introduced a colorful, durable backpack accessory on Kickstarter called SkoolTagz™ that is designed to put a little more fun into going back to school.
Shannon Blake and Elizabeth Dilworth, founders of so~mine®, developed SkoolTagz for kids to wear on backpacks, duffle bags, messenger bags and more. They are looking to Kickstarter, a funding platform for creative projects, to raise funds to produce the new product.
"We're always looking for great new products that our kids will be excited about," said Blake, Managing Partner, an experienced marketer whose company introduced SlapWear watches in 2010. "Kids love to express their personalities with their gear, and we realized there had to be a better way to dress up their backpacks without having to worry about things getting lost. That was the inspiration for SkoolTagz: we developed strap covers that can be decorated with removable Tagz made of durable, flexible rubber with no sewing required."
Here's how SkoolTagz works:

Begin with a starter kit that includes two strap covers and two bonus Tagz
Wrap the covers around the backpack straps and add the Tagz
Collect three-piece trader sets with popular designs (nine to choose from)
"Girls and boys alike are thrilled with the 'cool factor' of this colorful backpack accessory, and over twenty-five Tagz designs have been kid-tested and kid-approved," said Dilworth. "They'll enjoy collecting, trading, and sharing their Tagz throughout the school year and beyond."
After initial talks with retailers, the team believes the market potential for SkoolTagz is very promising and hopes to be in stores by early 2013. The bold and bright designs appeal to kids from pre-school through 6th grade and their parents.
The team has launched a Kickstarter campaign to help raise funding to produce SkoolTagz. To learn more about the project or to donate online, visit http://www.kickstarter.com/projects/so-mine/skool-tagz-back-to-skool-accessories?ref+city.
so~mine®
so~mine® offers innovative, on-trend products with mass appeal that bring convenience and satisfaction to people every day. With over 50 years of combined consumer products experience, so~mine® is a leader in product development, manufacturing, marketing, sales and distribution. Please visit our website to learn more at http://www.so-mine.net.
Note: Additional photography available on request.