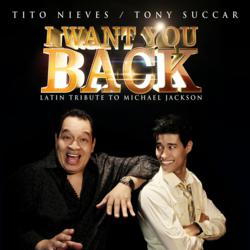 "Michael's music and films are filled with messages about unity, and I just wanted to help continue that legacy – to keep inspiring people through the joy of his music."
Miami, FL (PRWEB) August 22, 2012
Latin singing sensation, Tito Nieves, whose English language salsa hit "I Like It Like That," took audiences around the world by storm, joins a group of 90 musicians and singers in the production of a new crossover music project, entitiled UNITY: THE LATIN TRIBUTE TO MICHAEL JACKSON.
UNITY, consists of 14 of Michael Jackson's (J5's and Jacksons) hits arranged to Latin rhythms, and sung primarily in English. The first single off the album, the J5 classic "I Want You Back," is available now through online retailers such as iTunes, Amazon, Spotify, and more. The full album is slated for release this upcoming fall.
This masterwork includes, along with Tito Nieves, special collaborations from internationally renowned artists including India, Obie Bermúdez, Jennifer Peña, Michael Stuart, Kevin Ceballo and Jan.
'The UNITY Project,' as it's been dubbed, is the brainchild of 26-year-old Latin American music producer Tony Succar (pronounced SOO-CAR), an accomplished composer, musician (percussionist), arranger, producer and bandleader, who is gaining a reputation in the music community for his talent, creativity and flawless attention to detail. Tony's talent and professionalism has won the attention of jazz and Latin music stars such as Arturo Sandoval, Néstor Torres, Tito Puente Jr., Gilberto Santa Rosa, Oscar de Leon, Tito Nieves, La India, and Tito Rojas. Tony's debut CD, "Live at the Wertheim Performing Arts Center," received excellent reviews from jazz critics. UNITY is the young producer's second album.
More than anything, Tony Succar is a passionate Michael Jackson fan. "For musicians, Michael's music is the top of the game – he's like an Olympic gold medalist in terms of quality, perfection and attention to detail in his artistry and craftsmanship," Tony said. "Michael's melodies offer a very strong foundation, but the arrangements, the orchestrations, are extremely meticulous and delicate. Musicians jump at the chance to work on MJ's music, because we learn so much from his work. For me, I loved blending his African-inspired rhythms, with Latino rhythms, which are so similar to begin with, and creating a wonderful new sound."
Yet it was more than Jackson's craftsmanship that drove Succar to pursue a recording project three years in the making. "Michael's message of universal love; not just tolerance – but true acceptance and embracing of racial, cultural, religious and political differences – that and putting the welfare of our children and planet first – is the great legacy of Michael Jackson," Tony said. "Michael's music and films are filled with messages about unity, and I just wanted to help continue that legacy – to keep inspiring people through the joy of his music."
For further information about UNITY: THE LATIN TRIBUTE TO MICHAEL JACKSON, or its participants, please:

(Editorial services courtesy of Ann Cavanaugh Communications / anncava(at)gmail(dot)com)