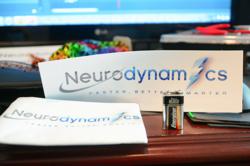 "… potential to enhance the minds of healthy people." – Nature
"… double your brain's learning rate and boost peak performance." – ExtremeTech
Houston, TX (PRWEB) August 20, 2012
Neurodynamics Flow is a next generation human augmentation device that can help individuals achieve what was never thought possible. Unlock hidden creativity, improve memory, and heighten peak performance using the latest in wearable computer electronics. With its sophisticated programming, optimal neural induction points, and tried and true results, Neurodynamics Flow allows users to rise to the peak of human evolution.
IndieGoGo is the perfect place to launch a project like this. With its community of visionaries and innovators, IndieGoGo allows Neurodynamics to tap into a group of talented individuals with tremendous foresight into what the future holds. This is the ultimate platform for taking exciting ideas to the next level, and early adopters can be among the first to benefit from the competitive advantage that Neurodynamics Flow can offer. Join the revolution in human evolution, become empowered in ways many have never experienced, and see the future of human augmentation and wearable electronics.
Neurodynamics Flow is a sophisticated neural induction device that precisely stimulates various brain nuclei to achieve a state of mental clarity, focus, and concentration… Flow.

"Flow is … a feeling of energized focus, full involvement, and success in the process of the activity."
Flow is a "merging of action and consciousness, a loss of self-consciousness," and a change in how we perceive time.
Flow leads to an "improvement in performance, artistic and scientific creativity, development of skills and personal growth, and a higher level of motivation." (Wikipedia)
With over a decade of research into fine-tuning the device, Flow's sophisticated microprocessor precisely stimulates various areas of the brain to create a higher level of function. This incredibly exciting technology promises to revolutionize how we think, at a price that everyone can afford.
The Neurodynamics Flow is developed by a group of doctors passionate about not just saving lives, but helping people reach their true potential. Our team is composed of industry veterans with a special talent for operationalizing great ideas. The Neurodynamics group has a solid track record of producing transformative products that revolutionize how people learn and think. Flow is the next step in human evolution.
Sapan Desai, MD, PhD, MBA is a surgeon and scientist on the faculty at Duke University and on staff at the University of Texas Health Science Center in Houston, part of the Texas Medical Center. With a successful track record of building and launching three separate companies in information technology, graphic design, and computer electronics, Dr. Desai has the ability to take an idea from vision to product. Combined with over a decade of research in transcranial neural stimulation, he can bring sophisticated and affordable human augmentation technology into your hands – and radically transform what you thought was possible.
Eugene W. Moretti M.D, MHSc. is Professor of Anesthesiology at Duke University Medical Center. With extensive experience in clinical research, particularly as it relates to medical devices, he is uniquely poised to help develop and ensure the success of this exciting new project.